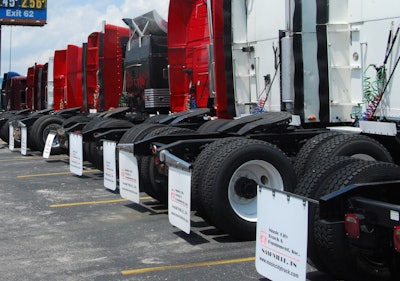 Monthly depreciation of trucks jumped .7 percent in 2016 versus the year before, according to J.D. Power and Associates data released Wednesday. Monthly retail depreciation for 3 to 5 year old trucks averaged 1.9 percent in 2016.
In terms of dollar value, J.D. Power commercial vehicle senior analyst and product manager Chris Visser says the average 3- to 5-year-old sleeper brought 12.5 percent less retail money in 2016, which translates to a loss of $8,803.
"This difference is substantial, but notably smaller than the drastic 30 percent year-over-year change in auction pricing for these same trucks," he adds.
Through the auction channel, Visser notes, 3- to 5-year-old trucks lost about $16,500 of their value from January to December 2016 – about 33 percent for the year or about 2.75 percent per month.
"[That is] slightly better than our early forecasts of 3 percent to 5 percent per month," he says.
Model year 2014 trucks lost about 25 percent over the course of last year at auction, while model year 2013 trucks lost about 34 percent, and 2012 model year trucks lost about 37 percent.
Visser says that based on new truck delivery numbers over the past five model years, there is a potential 8.1 percent increase in the number of 3- to 5-year-old sleepers returning to the market in 2017 compared to 2016 and he is forecasting a continuation of the 2 to 2.5 percent per month depreciation for Class 8 sleeper tractors.
"Retail should perform moderately better than wholesale," he adds. "There should be more trucks returning off trade this year compared to 2016, which should counteract any increase in demand."
"It is likely that OEMs are already stockpiling some quantity of these trucks, keeping them out of the marketplace until conditions potentially change," he adds. "On the upside, new truck order activity was on the higher end of expectations in the most recent two to three months, and the volume of used trucks sold rose unexpectedly in December."
Visser says these factors suggest there may have been some pent-up demand in late 2016 as buyers waited for the presidential election.
"Business interests are also probably encouraged by the likelihood of tax reductions and regulatory rollback under the new administration," he says. "If true, these factors provide some optimism for the demand outlook. On the other hand, renegotiation of trade deals points to inflation and increased costs. Overall, we are cautiously optimistic about demand for used trucks in 2017, with the understanding supply will remain the overarching factor in prices."