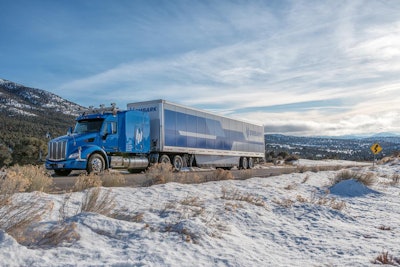 A new San Mateo, Calif.,-based upstart company has entered the autonomous truck ring.
Embark, a developer of self-driving technologies for commercial transportation, Friday unveiled its self-driving truck technology, which uses a combination of retrofit radars, cameras and LiDAR depth sensors.
Embark CEO and co-founder Alex Rodrigues says the company has completed more than 10,000 miles of testing with its fleet of five trucks and received its test license in the State of Nevada in late January.
Rodrigues says Embark's technology allows trucks to drive from Interstate entrance to exit without any human input. The data points from forward-mounted sensors are processed using Deep Neural Nets (DNN), a form of Artificial Intelligence that allows the truck to learn from its own experience.
By analyzing terabytes of real-world data, Rodrigues says Embark's DNNs have learned how to "see through" glare, fog and darkness.
"We've programmed them with a set of rules to help safely navigate most situations, how to safely learn from the unexpected and how to apply that experience to new situations going forward," he says.
Embark's autonomous system is similar to that currently under development by Uber-owned Otto but Rodrigues believes Embark's singular focus will make its product more viable and trucker-friendly.
"Otto is now actually Uber, which has a much broader focus and very different priorities," he says. "Unlike Uber, we are 100 percent committed to trucking, so there's no danger that our focus and our talent will get shifted over to passenger cars."
Rodrigues says Embark's truck is built specifically to handle long and simple stretches of highway driving. At the city limit, Embark's computerized truck gives way to a human driver who navigates the city streets to the destination.
Embark, according to Rodrigues, is working to perfect the underlying software platform that will make trucks smarter and more adaptable to new circumstances, and that can be easily integrated into existing or new – if even yet undeveloped – smart vehicle systems.
Embark engineering and design teams have recruited employees from SpaceX, StanfordAI and Audi's self-driving team. The team is backed by a multi-million dollar investment led by Maven Ventures, whose previous investment in self-driving technology, Cruise Automation, was sold to General Motors for $1 billion last year.
"We are committed to proving beyond a shadow of a doubt that this technology is safe and reliable," says Rodrigues. "That means performing extensive tests and working with our partners in the government to get it—and the market—ready."
As for when the market will be ready, Rodrigues says pinpointing that date is still a work in progress.
"We are rapidly expanding our testing program," Rodrigues says, adding the company plans to quadruple its engineering team within the next year and expand its testing fleet in an effort to show their technology is ready for the nations highways, "and we'll be working with the regulators to determine when it will be commercially ready."
Embark is also working with its commercial partners to determine a price point but Rodrigues says he expects, at roll-out, it will cost less than $50,000 to outfit an existing truck with the company's system.