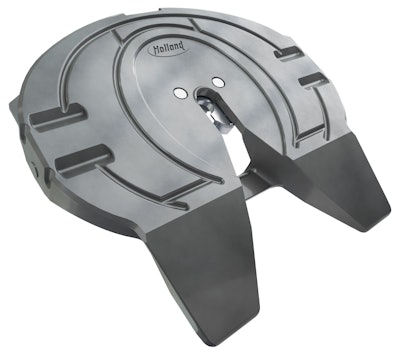 SAF-Holland, Sunday at the Technology & Maintenance Council's 2017 Annual Meeting and Exhibition in Nashville, Tenn., introduced a new multi-feature enhanced fifth wheel for terminal tractors.
Ron Froese, director of sales for powered vehicle products, says the FW35TT is specifically designed to exceed requirements for repetitive coupling, with a twin-lock design which prevents kingpin bounce out. The twin lock jaws are secured with easy-to-remove pins and can be replaced in less than 15 minutes.
With a maximum vertical load capacity rating of 80,000 pounds, the FW35TT top plate is cast with an extra thick top surface for increased life. The entire casting is made from high yield cast steel, and provides top performance in all operating environments.
The FW35TT rib structure includes a more robust main rib and kingpin throat structure with added reinforcement to the entire kingpin contact area.
When the grease-free pocket liners need replacing, Froese says it takes "only seconds" to remove old pocket liners and drop the new ones in. And, the new front skirt spring retainer makes for easy Yoke Shaft Replacement.
The lock mechanism cam plate has been enhanced for smoother operation and increased life. And for driver convenience, an integrated automatic secondary lock eliminates the need for a manual handle for activation.
A new integrated lock down mode adds an unprecedented level of coupling security by automatically activating when a driver releases the trailer parking brakes. The new double-acting air cylinder holds the lock mechanism in the closed position until the driver re-engages the trailer parking brakes and activates the in-cab release to unlock the fifth wheel. This new lock down mode automatically prevents the FW35TT from being accidentally uncoupled.