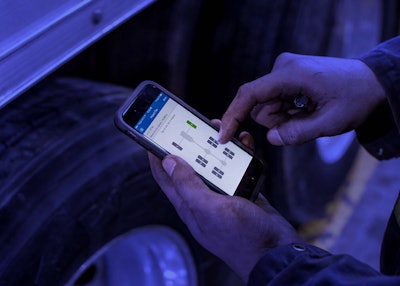 Dana Incorporated unveiled a new cloud-based tire management platform at the Technology & Maintenance Council's 2017 Annual Meeting and Exhibition in Nashville, Tenn., Sunday.
The new Rhombus TireAnalytics solution, Tim Farney, vice president of global sales for Dana Commercial Vehicle Driveline Technologies, says enables commercial-truck owners and fleet maintenance managers to identify best practices for tire maintenance and optimize tire lifecycle management.
Rhombus TireAnalytics provides insights into the condition of tractor and trailer tires that Farney says helps identify and analyze tire wear trends, predict maintenance issues that can be addressed preemptively to minimize truck downtime and establish optimal timeframes for scheduled replacement.
For larger fleets, it also facilitates the implementation of custom standardized tire inspection and maintenance practices across terminals. Trent Siemens, director of maintenance for Paul's Hauling Ltd., was one of the platform's early adopters and says the Rhombus became a tool to establish a tire service best practice.
"We struggle with getting consistency in our tire program," he says. "Insuring consistency is one of our greatest challenges… I need to know if exceptions to the rule are being made by the staff and I need to know when that is happening."
Seimens says the platform has also helped analyze the cost per mile of the tire through it's lifecycle, including re-treading, not just on its first application.
Available now in the U.S. and Canada, the Rhombus TireAnalytics system integrates portable communications and computing platforms, advanced data collection and analysis, information sharing and dashboard technologies through a cloud-based solution.
"Tire wear tells a story and I now have that story available to me," he says. "What used to take me hours and days using spreadsheets is just a few clicks away."
Truck owners can also use the system with existing mobile, tablet and desktop, eliminating the need for any additional hardware purchases.
Seimens, whose technicians use an iPod to input data into the app, says the platform brought to his attention a spike in tire vale cap replacements, which led him to change vendors.
"That's something I wouldn't have seen through the spreadsheets before," he says.