Trailer tracking and management systems have been around for nearly as long as in-cab mobile communications and telematics. As with any technology, it gets better with time.
Early generations had to overcome significant roadblocks to deliver value. Trailer tracking systems are now affordable and offer more reporting and analytical capabilities than ever before.
Creating value from data
Trailer tracking systems have largely migrated from using satellite to cellular networks. This has increased the speed and volume of data they can capture and report for events that include time, location, mileage, motion (start/stop), temperatures, cargo status (loaded/unload), door status (open/closed) and many other data elements.
Besides knowing the detailed status of trailer assets, fleets use the technology to analyze historical data for strategic decisions, such as to reduce equipment costs by disposing of underutilized assets or transferring them to locations where they are needed.
Companies that supply these systems are now looking for ways to unlock more value by using big data from their collective user community.
Spireon offers the FleetLocate trailer management system and has a large database of trailer information. The database began when it entered the market more than five years ago. In December, 2016, the FleetLocate platform was processing about 17 million sensor events every day, peaking at 500 events per second, says Roni Taylor, Spireon's vice president of industry relations.
The company recently hired Dean Croke, formerly with Omnitracs Analytics, to oversee the development of new data products using the power of predictive analytics.
Croke is currently analyzing the history of trailer maintenance violations in the Compliance, Safety, Accountability program of the Federal Motor Carrier Safety Administration. Using the publicly available violation data, he is looking for trends in violations based on the number of miles driven, by state.
He is also looking for trends in trailer tire violations, Taylor says. This insight could help Spireon's customers identify under-performing trailer tire products in terms of tread wear.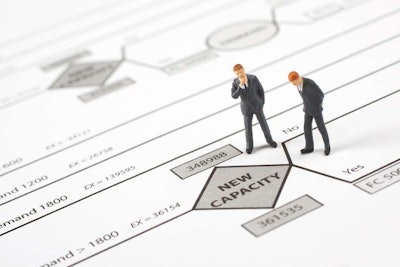 Trailer utilization is another opportunity for big data analysis. Using its database, Spireon is looking to provide insights to customers that show the number of days their trailers sat idle in a particular state, by month, to industry averages by using data it has normalized, she says.
Food Safety compliance
Besides unlocking greater value from trailer data through analysis, some fleets are looking to trailer tracking systems to comply with new regulations for transporting food-grade products.
Shippers are asking for detailed records of temperature and other chain-of-custody information from carriers to comply with the Food Safety Modernization Act.
A number of systems are designed to monitor and communicate data to and from reefer units like the temperature and operating conditions.
C.R. England, the nation's largest refrigerated carrier, is using a trailer tracking and monitoring system from Orbcomm that gives around-the-clock visibility to its assets without requiring a connection to tractors. The system has two-way connectivity using cellular and satellite networks.
The Orbcomm system alerts management when equipment is not operating as per its configuration. Integration between Orbcomm and C.R. England's back-office software also helps minimize human error by comparing trailer temperature against the temperature specified in the order, says Ron Hall, vice president of equipment and fuel for the Salt Lake City-based carrier.
Larger carriers, like C.R. England, are deciding to go with trailer management systems that have complete, two-way monitoring. Smaller carriers, particularly those with a mixed fleet of dry vans and reefers, are looking for more economical alternatives to have basic temperature tracking to comply with FSMA regulations, says Spireon's Taylor.
The tracking device for Spireon's FleetLocate system can be installed inside the reefer housing and connected to a temperature probe that reads the ambient temperature in the trailer every five minutes, she says, to capture information for a chain-of-custody report.
In the past, fleets may have been satisfied knowing the location of their trailers once or twice per day. To maximize the value of trailer tracking and management systems, and to meet more stringent shipper requirements, it seems that more data — and richer data — is better.