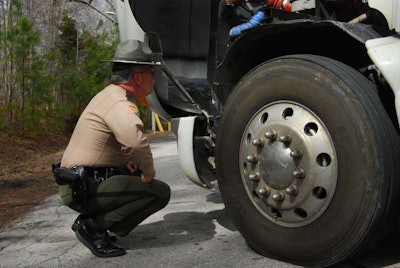 The Commercial Vehicle Safety Alliance of industry and law enforcement representatives will conduct a single intensive brake-safety enforcement day Sept. 7 this year, following years of a full-week Brake Safety Week program.
The Brake Safety Day event is in combination with an unannounced one-day brake-check blitz that has in years past taken place in early May. During both events, CVSA says, inspectors will be conducting primarily Level IV inspections.
CVSA Executive Director Colin Mooney unveiled these and other significant dates at the CVSA Workshop event in Atlanta on Monday.
The long-running International Roadcheck enforcement blitz is on its way in just more than a month, June 6-8. Later in the year, the activities around Operation Safe Driver Oct. 15-21 will target unsafe driver behaviors, including those of automobile drivers navigating around commercial vehicles. Speeding, following too close, distracted driving and more are all under intense focus during that week.