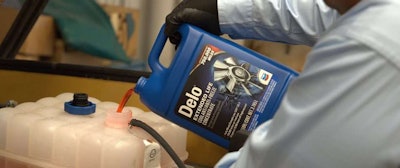 Seasonal shifts in temperatures can be a welcome change for fleets most prepared for them. Many trucks have spent the last several months battling winter conditions but as Spring settles in, several key maintenance areas need to be addressed before Summer arrives.
HVAC
Since the air conditioning doesn't get a workout in the winter months, problems with the system may exist and go undetected. Cooling the cabin against hot temperatures is more stressful on the system than heating it, so a pressure test is a good idea and it's worth looking into a recharge.
Luber-finer​'s Director of Heavy Duty Marketing​ Layne R. Gobrogge​ says replacing filters is also a good summer-readiness practice.
"With warmer weather comes an increase in seasonal allergens such as pollen and mold," he says. "Higher temperatures also bring about an increase in air pollution and dust mites."
When these contaminants enter the cabin through the truck's HVAC system, concentrations can multiply up to eight times higher than normal, resulting in the air a driver breathes inside a vehicle becoming more polluted than the air outside.
"Given the number of hours OTR drivers spend behind the wheel … that's why it's so important to maintain a safe, healthy and comfortable environment with a cabin air filter that cleans and purifies the air coming into the cab – especially when temperatures start to rise."
Tire pressures
Outside temperatures can make subtle adjustments to tire pressure, leading to increased wear.
"For every 10-degree change in tire temperature, the tire pressure can change 2 PSI," says Joe Puff, vice president of truck technology and maintenance for NationaLease. "The reduction of pressure in the tire may reduce the tires rated weight carrying capacity significantly.
Tires get hotter as they roll. With outside temperatures climbing, so will pressures with each mile.
"Too low of an air pressure for the load being carried will increase the tire temperature which can lead to tire failure," Puff adds.
Coolant system
Cooling system maintenance during the fall and winter seasons is most common, but Colin Dilley, Prestone Products Corporation's Vice President Technology, says spring is arguably the most critical time.
"Cold snaps can certainly wreak havoc on a cooling system, however, the prolonged warm season where temperatures tend to spike for weeks and months at a time, can be even more destructive," he says.
Hoses become damaged and brittle during the winter months and during summer are exposed to extreme temperatures that can cause leaks and breaks. Clamps and metal components, which may have been damaged by salt and road sludge, Dilley says, are weakened and prone to failure.
"Compound these environmental problems with upkeep issues and you have a recipe for potential engine failure," he adds.
To protect against overheating, Dilley advises to test the fluid to ensure its coolant-to-water ratio is near 50 percent, while also testing for inhibitors and water quality.
"Lastly, drivers should examine the color of their coolant," he adds. "If the original color has turned to a murky brew, or if you don't remember when the coolant was last changed, it's time to take action."
Batteries and electrical system
Batteries generally get a thorough checkup before winter settles in, but hot weather is actually more damaging and weak batteries can fail during excessive heat, damaging other parts of the electrical system.
"High resistance in cables can take out a starter or alternator by overworking it," says Daniel Mustafa, assistant manager of technical development for TA, "and resistance goes up with temperature."
Resistance is often caused by corrosion, which Mustafa says can work its way several feet into the cable before affecting cranking power. He advises checking all cables, the battery, the starter and charging systems as part of a summer prep program.
"I would specifically request for a voltage drop test on my starting and charging cables and then ask them for the value," he says. "Anything over .5 volts is a failure."