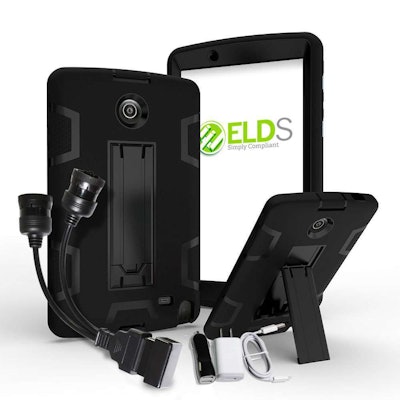 ELD Solutions (ELDS) announced it has finalized its product and is accepting orders for subscription services. Created by trucking industry veterans using technology developed over the past 10 years, ELDS product is offered for a monthly fee for dedicated device and bring-your-own-device packages that vary from simple ELD compliance to a full suite of telematics tools and asset tracking.
"We know there has been an influx of ELD providers in the trucking industry, but ELDS stands out from those companies," says Jeffrey Farrington, ELDS vice president. "The ELDS team has used our knowledge of the industry to refine our existing technology and to ensure that the product is compliant and simple to implement. We guarantee to all of our fleets that our product meets the FMCSA requirements for the new law."
Details of packages offered by ELDS include:
Basic, Deluxe and Premium package subscriptions (see eldsolutions.com for package details).
Options for dedicated device or BYOD. Customers can mix and match device types throughout their fleet.
All packages come with an ELD Module and ECM plug. Dedicated device packages also include an 8 or 9.6-inch tablet and rugged case with the monthly subscription.
Insurance is available for tablets in the dedicated device packages.
Based on carriers' needs, tablets can be assigned to each driver or to each vehicle.
Trailer tracking is available as an add-on to any package with five-year battery life on the battery powered tracker. A tethered version is also available.
24/7 live customer support based in Tennessee is available to all ELDS customers.