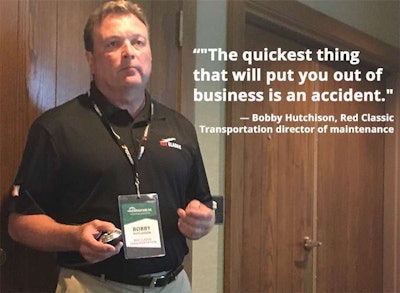 The struggle to find technicians is often what causes fleets to first consider third-party maintenance providers, but the ability to improve overall service practices often doesn't get consideration until it's too late.
"Maintenance is a necessary evil," says Red Classic Transportation Director of Maintenance Bobby Hutchison at the CCJ Symposium in Asheville, N.C.
While improving maintenance can boost your uptime, it can decrease your liabilities in the event of an accident.
"The traffic you see nowadays in these major cities is a lot more than it used to be. The chances are greater and greater that there's going to be an incident at some point," he says, noting the prevalence of accident attorneys in search of a big payday. "The quickest thing that will put you out of business is an accident."
Red Classic Transportation, which Hutchison says currently has 14,000 assets under management, hauls primarily for Coca-Cola but offers third-party maintenance services across the southeast and mid-Atlantic states.
"A lot of places we take over have no maintenance," he says. "We can reduce their costs pretty dramatically just from breakdowns."
Outsourcing alleviates a fleet's need to manage multiple shops and employees at remote locations, unlocking resources that can be reinvested into trucks and equipment rather than building maintenance capacity.
"The big cost of maintenance is opening up a shop," he says. "You can cut cost in a lot of places but you can't cut cost on technician [salary]."
Farming out service also alleviates the need to keep technicians current on training. For example, Hutchison says a truck's DPF accounts for about 80 percent of all maintenance issues on 2010 and newer trucks.
"You have to know when to change out certain pieces of it and you really need to get them training on your specific system, not just some generic piece of it."
Fleets searching for a service partner, Hutchison says, should look for a company with certified techs, providers who understand pricing structure and ask about the tenure of staff and their training regimen.
"Anybody you deal with should be willing to provide you references," he says.