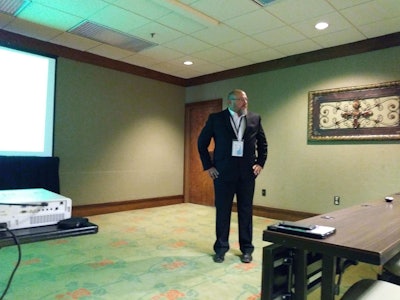 Maverick Transportation uses a lot of technology for driver safety and training but you "still have to have human relationship skills," was the emphasis from the company's director of training, Curt Valkovic, May 24, at the CCJ Symposium. "Mentoring is a gift we all appreciate."
Valkovic spoke during a breakout session titled "automated driver training." Maverick, he said, uses an array of driver safety systems including a forward-facing camera, lane departure warning, roll control stability (RCSS), forward collision mitigation, ELDs, multi-media, predictive analytics and in-cab communications.
"We are pulling live data," he said. "That is very important when developing a training program."
The safety and driver training departments have a business intelligence dashboard that presents live critical event data from 1,600 trucks. The IT tools help managers effectively match problems with corrective actions and apply individualize training plans for drivers.
Maverick developed a paperless training program using video and multi-media training content. With its technology and training content, the company could push out digital training to drivers, on demand, but Valkovic stressed the importance of relationships in the business of safety and retention.
"You have to follow up. You cannot lose the communication piece," he said. "I love the technology piece but you still have to have human relationship skills to train and keep your drivers."
During the breakout session, Valkovic described the process Maverick goes through for various critical safety events and used a "load shift" event as an example.
Was the driver trained on the securement of product? To answer this question, trainers use records in a computerized driver training system to ensure that the individual driver was trained and accepted accountability.
Look at the critical event data: Did the driver have a hard brake event? Did the roll stability system activate?
Cause phase. "Everything has a root cause," he said. "Our obligation is to pinpoint the cause. We make sure we have data before we go forward. That allows us to see exactly what occurred."
Talk to the driver with a corrective action and apply behavioral training.
In addition to having a robust set of critical event data, Maverick uses a predictive model that identifies when, and why, a driver's behavior changed leading up to a critical safety event. The model gives driver trainers information they need to "be more precise at helping the driver change his or her behavior and preventing similar occurrences," he said.
For instance, the predictive model looks through the data to identify patterns of change for drivers like sending more messages, having variance in miles, pay, types of loads or the areas of country they are running.
"When you use this data, you want to get them to open up and talk to you. That is part of building relationships and retention," he said.
Valkovic shared several success stories for its use of data analysis and training to reduce risks. Last year a trend surfaced that showed an increase in backing incidents. Seventy five percent of driver hires are students, and the data showed the majority of backing incidents were occurring from less experienced drivers.
The company added a new truck skills course in its final evaluation program in June, 2016, and as a result backing incidents were reduced by 43 percent, he said.