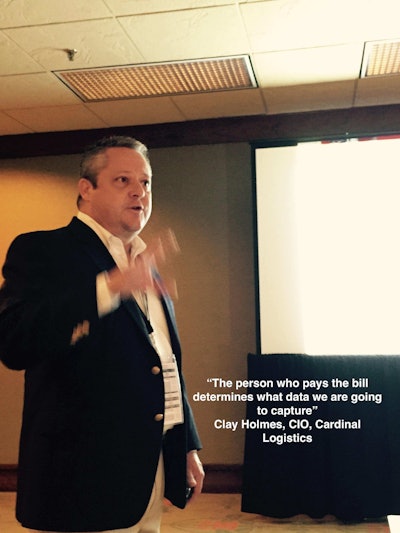 By keeping up with the latest trends in mobile technology, motor carriers and logistics providers can simplify work for drivers and diversify the services they offer to customers.
This was the takeaway from a breakout session, May 24, at the CCJ Spring Symposium in Asheville, N.C., led by Clay Holmes, chief information officer of Cardinal Logistics Management based in Concord. N.C.
Holmes started his career doing just-in-time automotive transportation for J.B. Hunt. At the time, he required drivers to call in every two hours from phone booths along their route to update load status.
The arrival of in-cab mobile communications systems and cell phones ended that archaic practice, but early versions of the technology could not collect much data, he said.
Commercial-grade mobile devices entered the scene, pioneered by the likes of UPS, to capture shipment data outside the vehicle. These mobile devices and applications were designed for a single purpose for trucking and other business enterprises, he said.
True mobility arrived with the iPhone, and later Android, devices. This latest iteration has made it possible to merge enterprise and consumer apps onto a single device. Still, there are conflicting needs for the consumer and enterprise users. Enterprise want their hardware to last three to five years and come with robust service options.
"Consumers want the newest phone as quick as they can get it," he said.
One thing both types of users can agree on is the need to distribute apps easily to devices that meet their specific needs, he said.
Cardinal Logistics is third-party logistics provider for a number of large customers. The company has its own fleet of assets and drivers and also contracts with fleets and owner-operators for capacity.
Holmes says the company's latest mobile application has been developed to run on any Android device and to quickly adapt to the data capture and workflow requirements for any shipper customer.
When making deliveries for one customer, Kraftmaid, Cardinal drivers scan hundreds of individual items they offload from trucks. When picking up dairy products from a customer in another vertical market, drivers have very different data capture needs such as entering the identification number of silos and bins.
Cardinal designed its app to automatically re-configure the workflow for each order on a driver's daily manifest.
"The device we use never has to be reprogrammed. We can use the same device for different verticals on the same day. The person who pays the bill determines what data we are going to capture," he said.
The company also uses mobile apps for electronic logs. Drivers in California operates a different version to account for meals and break requirements, among other complexities. If companies were to have apps that do not work on the same device and "play well" together, "you are going to have a problem," he said.