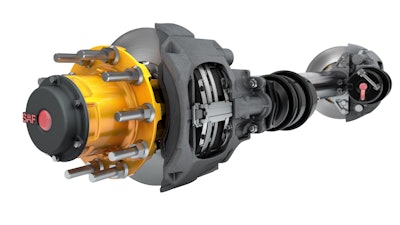 Adoption rates for air disc brakes (ADB) have climbed more than 100 percent in the last five years and show no signs of slowing down with penetration reaching 10 percent in 2013 and expected to close this year at approximately 21 percent.
Driven mainly by large fleets moving toward disc brakes, Meritor Product Manager Paola Carmona says adoption could hit upwards of 30 percent by 2020.
"The industry has already arrived at a point where air disc brakes are standard on certain truck models," says SAF-Holland Director of Product Planning – Americas, Bill Hicks. "This trend will likely continue to expand as more OEMs respond to market demand."
Segments like construction, logging and off-highway – "any time there is a lot of dirt and debris," Carmona says – will help keep drum brakes viable, but she expects that air disc brakes will eventually overtake the market.
"We believe drum brakes will not go away," she adds. "There are places they do make sense, and they are the most cost effective option."
Hicks notes that trailer OEMs have to-date been more hesitant to add ABDs, however, he foresees new van and specialty models being brought to market with disc brakes as standard and drums as a deduct option.
"When you look at fleets and how long they keep tractors and how long they keep trailers, air disc brakes make just as much sense on the trailer side as they do on the tractor side," adds Keith McComsey, Bendix Spicer Foundation Brake director of marketing and customer solutions.
Upfront cost remains ADB's largest hurdle to wide penetration, but demands placed on equipment from reduced stopping distances – added to a lower cost of maintenance, resistance to brake fade and the elimination of rust-jacking – are helping ease the financial burden of a roughly $1,200 per axle upcharge for ADBs.
Tractors are federally-mandated to stop in a distance of 250 feet from 60 MPH, but Fred Andersky, director of customer solutions – controls and director of government & industry affairs at Bendix Commercial Vehicle Systems, says most OEMs want to build trucks that stop at 225 feet.
"In a typical scenario, ADBs' stopping distance is up to 15 percent better than required by FMVSS 121," says Jon Morrison, WABCO president, Americas.
Andersky says fleets have started to see the value proposition that is longer maintenance cycle (two drum changes for every one ADB change), adding that ABDs can be changed much faster.
"It takes about 15 minutes to change pads," Andersky says. "On a 4X2, you can change all the pads versus the time it takes to change one drum."
While pad versus drum replacement is fast and simple, converting your tractor from drums to disc brakes is much more involved.
A drum brake wheel end – including the hub, drum, brake, slack adjuster and brake chamber – would need to be replaced by an air disc brake with brake chamber, hub and rotor axle-wise. A torque plate enables the adaptation of the air disc brake to the installed drum brake axle.
Carmona says this process isn't simple and, in some cases, may not even be possible.
"Not all suspensions are compatible with air disc brakes," she adds. "There is a financial hurdle in the aftermarket. To do a conversion is a big ordeal."