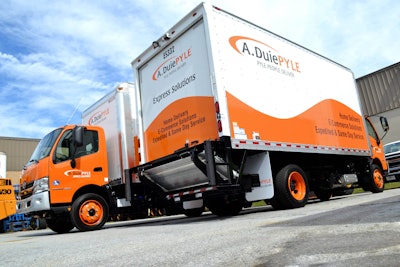 MacroPoint, creator of freight tracking software, announced that A. Duie Pyle Brokerage Solutions is using its automated load tracking solution exclusively in its operation.
"We chose MacroPoint to be the exclusive provider of our freight visibility platform based on its strong reputation for an accurate and affordable solution," said Anna Hummel, director of brokerage solutions at A. Duie Pyle. "Our challenge is to get real-time load status information from the many carriers we work with every day and provide it promptly to shippers. We cannot make check calls as effectively, productively or affordably as we can when using MacroPoint to provide freight location updates.
First introduced to MacroPoint at the TMW 2016 in.sight User Conference, A. Duie Pyle Brokerage Solutions evaluated the load tracking software's capabilities and went live with the platform in January 2017. The implementation and integration went very smoothly, Hummel reported, and today the company is tracking a growing number of loads and managing by exception for loads that may be late or off schedule.
"There is no way to make a check call or exchange an email with a carrier and update our brokerage management system– and be sure the information is accurate and in real time– for the cost of a transaction using MacroPoint," Hummel stated.