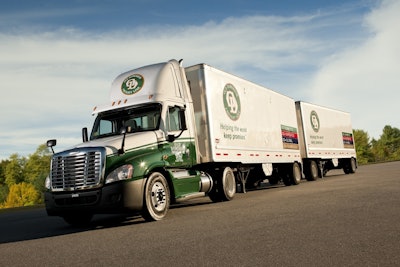 Despite significant legislative hurdles on much of the globe, a new report from Frost & Sullivan suggests "mega trucks" – generally defined as a vehicle measuring a minimum of about 100 feet long and weighing upwards of 80 tons – could nearly double in population by 2025.
Australia leads the current use of mega trucks in terms of penetration rates and are allowed nationwide in the Scandinavian region. Their limited use is allowed in Germany and Spain, and trials have occurred for mega trucks in France and the United Kingdom, but have been rejected.
Citing a strong mandate and support infrastructure, the report says North America is expected to accommodate more mega trucks but notes overcoming legislative hurdles and negative public opinion will be critical in promoting mega truck usage.
"Digital transformation and autonomous trucking will play an important role in expediting the adoption of mega trucks through better connectivity and safety features. With bigger engines and higher payload capacities, mega trucks are expected to incorporate more value features, especially in developing markets," says Frost & Sullivan Mobility Research Analyst Marshall Martin. "Mega trucks in the future will be built on common platforms for similar markets such as China, India, and South America."
The report, Global Mega Trucks Market, Forecast to 2025, says global sales penetration of mega trucks is expected to increase from 3.4 percent to 5.7 percent for total heavy duty (HD) truck sales from 2016 to 2025, depending on lawmakers in specific regions laying down regulations that take into account the impact on infrastructure, environment, society and other modes of transport. The study examines trends, drivers, opportunities, challenges, and technology developments impacting the global mega truck market through 2025.
"A proliferation of mega trucks, where on average two mega trucks would replace three normal-sized trucks, would have a negative impact on the sales of trucks, thereby affecting OEM revenues," Martin says. "These companies should look toward creating alternate sources of revenue through investing in or acquiring companies present in the safety, lightweighting, telematics, and mobile-based freight aggregation fields."
Sagging OEM sales could be one of the lowest hurdles to clear, with the tallest being U.S. lawmakers and industry sentiment. A recent report from FTR found that allowing twin 33-foot trailers on the nation's highways – a measurably smaller combination unit than a mega truck – could lower trucking costs as much as 10 percent. However, proposals to allow for the widespread use of Twin-33s have been met with nearly industrywide resistance. Earlier this month, the Truckload Carriers Association (TCA) sent a letter to the House Appropriations Committee opposing a potential amendment to the 2017 Appropriations Bill mandating Twin 33-foot trailers.
"There are more effective ways to meaningfully improve industry productivity," TCA President John Lyboldt wrote in his letter.