Editor's note: This is the second and final article in a Strategic Routing series that looks at how fleets can use new developments in route planning software to stand out from the competition. Part one covered final-mile routing applications.
When selling dedicated transportation services, fleets and third-party logistics providers cannot afford to make an educated guess on pricing. That's why many now use technology to simulate what it will actually cost to replace a shipper's private fleet, and how much they can save the customer to close the deal.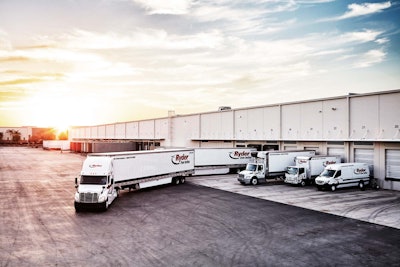 Ryder Canada, a Toronto, Canada-based division of Ryder Systems, uses a routing software system to accurately determine how many kilometers and hours it can drive out of a prospective customer's freight network to optimize transportation costs, says Waseem Naz, Ryder Canada's logistics project leader.
Naz says prospects will typically give Ryder Canada a full year's worth of historical shipment data. Ryder Canada will then use a route planning and scheduling application from Paragon Software to evaluate alternative transportation and service scenarios, calculate efficient schedules and determine resource requirements and costs.
The system can quickly pull in historical order data from a spreadsheet, explains Will Salter, president and chief executive of Paragon. Fleets and 3PLs typically run several models using the data. Each will simulate routes for a week's worth of orders for low, medium and peak order volumes.
The models can be calibrated more to closely replicate the same routes and sequences the shipper used, he says, and to estimate the shipper's cost in terms of mileage, hours and vehicles.
"That is a pretty standard function for getting data in and doing some real routing and scheduling runs," he says.
The next step is to run what-if scenarios by altering the mix of available trucks and different time windows for pickups and deliveries to identify cost-saving opportunities.
"In general, we are talking about 10 percent savings in mileage and hours, which may or may not equate to resources," says Naz. By "resources" he means trucks. Suppose a shipper had a private fleet of 10 trucks. If Ryder Canada identified a savings opportunity of 10 percent, it may not be possible to do the job with 9 trucks.
When a customer's freight network is large enough, eliminating trucks from routes is easier in which case the savings potential is usually in the 15 percent range, he says.
A national salesforce
NationaLease, one of the largest full-service leasing organizations in North America, uses a routing application to sell its dedicated contract carriage services. NationaLease is an umbrella management organization for approximately 180 NationaLease members that operate regional businesses.
Together, its members can offer a national network of truck leasing, maintenance and dedicated logistics services.
At the corporate level, NationaLease sells dedicated contract carriage on behalf of members since "big corporations like to deal with us at the corporate level rather than be sold to from various smaller type of companies," says Dave Beaudry, director of logistics, engineering and consulting for NationaLease.
Beaudry works with a salesperson at the corporate level to apply its routing software and logistics modeling tools to identify cost-saving solutions for shippers.
Using historical order data, the company will identify weekly fluctuations and seasonality in the historic order volumes. Next, management will use its software to simulate routes for an average and above-average week of orders. The models also consider how much product a shipper loaded onto its trucks and how it routed its trucks.
As part of establishing this baseline model, the company includes service requirements, time-of-day constraints, drive time and unloading times.
"From that we do a lot of 'what if' scenarios," he says, offering examples like adding more stops to a route or using straight trucks versus tractor-trailers. After testing these and other "what if" scenarios, NationaLease comes up with a preliminary solution and discusses the opportunity with a member company.
The member may want to make a few adjustments to the sales proposal before the final, cost-saving solution is presented to the prospect, he says.
Putting plans into action
Routing software may be the only tool a fleet or 3PL uses to identify cost-saving solutions for its current and prospective customers. When it's time to execute the plan, however, routing software is more effective when combined with other technologies.
Mobile applications and devices make it possible to send the route plan to drivers and monitor their performance every step of the way.
Teletrac Navman recently integrated its GPS tracking and fleet management system, Director, with PTV Group's transport planning and optimization software to better facilitate the execution of route plans.
PTV is an international software company with headquarters in Germany. Its software performs compliant routing for each type of vehicle profile, to include height, width and other factors that can restrict routing options. The software can also accept up to 500 different constraints per order which include delivery time windows and driver qualifications.
Once routes are planned using the PTV software, the route manifests are passed to individual Teletrac Navman units in vehicles for drivers to execute. The Director system uses Garmin units for the display so the route plans can be accompanied with in-cab navigation.
Additionally, Teletrac Navman's Director system tracks and gives fleet managers a real-time dashboard to monitor hours-of-service compliance, fuel consumption, stop time and other safety and performance information, says Marco Encinas, marketing and product manager of global platforms for Teletrac Navman.
The next step for integration between the two systems will take the real-time information collected from Director and send it back to the PTV software to allow for more fluid and dynamic scheduling of work, Goetz says.