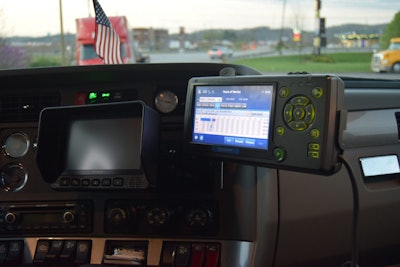 Note: An earlier version of this story incorrectly stated trucks equipped with model year 2000 engines and older would be exempt from the ELD mandate.
The Federal Motor Carrier Safety Administration has posted new guidance for the electronic logging device mandate that exempts trucks equipped with model year 1999 engines and older from adhering to the mandate, regardless of the model year of the truck.
However, if a truck's model year is older than 2000, but the engine model year is 2000 or newer, the driver is still required to adhere to the ELD mandate.
FMCSA says in a freshly updated FAQ on its website that drivers are not required to carry documentation in the truck that confirms their engine's model year, but notes that federal regulations require motor carriers to keep all documentation on motor and engine changes "at the principal place of business."
During a roadside inspection, FMCSA says law enforcement should refer the case for further investigation if they can't determine the model year of the engine.
This guidance deviates from FMCSA's previous guidance, which emphasized the model year as determined by the VIN on a truck's chassis.
Efforts have been made in Congress recently to delay the Dec. 18, 2017, compliance date for the ELD rule, but it will be difficult for such a bill to gain enough traction to be enacted, as CCJ reported this week.