CCJ's Indicators rounds up the latest reports on trucking business indicators on rates, freight, equipment, the economy and more.
Trucking added 400 jobs in July: Total employment in the for-hire trucking industry grew by 400 jobs in July, according to the latest employment report issued by the Department of Labor.
July's gains come after three months of declines in industry employment. However, due to strong gains in February and March, trucking industry employment is still up compared to 2016. July's total, 1.4706 million, was 22,000 jobs greater than the same month last year.
The U.S. economy as a whole added 209,000 jobs in the month, pushing the country's unemployment rate to 4.3 percent.
The construction industry in July added 6,000 jobs. Manufacturing grew by 16,000 jobs.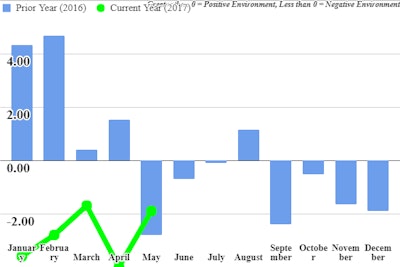 Shippers Conditions reflect weak contract pricing: Market conditions in May for shippers, as measured by the monthly Shippers Conditions Index from FTR, reflects "moderately favorable truck freight growth and continued weak contract pricing," FTR reported this week. Spot market rates for truckload segments have been climbing most of the year, but such pricing increases have yet come to fruition in the contract market.
FTR predicts the industry capacity to tighten over the next year, which would "alter the landscape," FTR notes, likely to put upward pressure on rates. We are back at the status quo, with moderate growth in both the overall economy and truck freight," says FTR COO Jonathan Starks. "Contract pricing remains relatively favorable for shippers. It is only in the spot market, which continues to show strong results on both demand and rates, that we see the signs of changing conditions. We continue to expect implementation of ELDs, coupled with moderate increases in freight, to make for a more fraught environment for shippers."