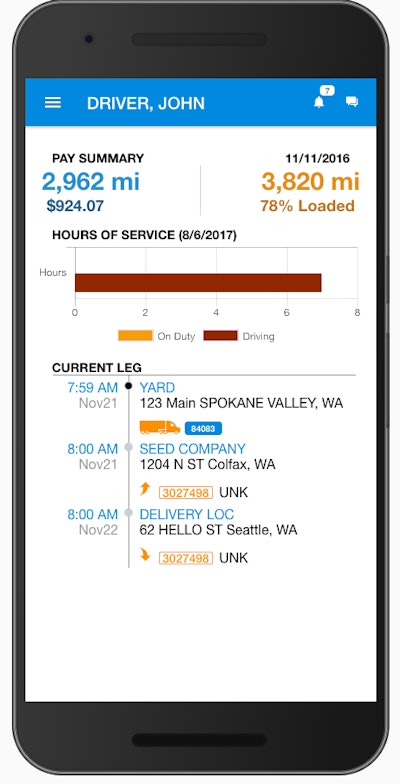 TMW Systems introduced a portfolio of 11 user-friendly mobile apps for professionals at every level of a transportation business.
The new set of mobility tools supports users of the TMW.Suite, TruckMate and Innovative IES transportation management systems as well as TMT Fleet Maintenance software. Each app is available via the Apple App Store and Google Play marketplace.
"The transportation and logistics industry is undergoing a digital transformation that is being driven by mobile technology," said Ray West, senior vice president and general manager, TMS solutions, TMW. "Each of our new mobile apps is designed to enhance business efficiency and competitiveness by providing the information and functionality users need to make the right decisions at the right time."
The following mobile apps are available for operations personnel, freight brokers, logistics managers and other professionals who want to access core TMS application data and complete a wide range of activities:
TMW Go Dispatch, for users of the TMW.Suite TMS. Key functionality includes adding/viewing check calls, updating stops, assigning resources, running reports, splitting trips, and more.
TruckMate DASH Dispatch, for TruckMate TMS users. The app enables users to monitor status changes, manage exceptions, approve advance requests, track resources, visualize and map trips, and more.
IES InMotion Dispatch, for the Innovative IES, IES Access and Access Plus TMS platforms. Capabilities include reviewing and accepting/rejecting EDI shipments, entering call checks, reviewing driver information, issuing advances to drivers, tracking and tracing customer orders, and more.
TMW Go Driver enables vehicle operators to review trip, pay and appointment data using their Android or iOS device.
TruckMate DASH Driver offers access to daily trip schedule and detail, pay information, mapping and important notifications. Drivers also can use the app to request fuel advances.
IES InMotion Driver allows users to review trip details, read messages, monitor Hours of Service, view paycheck information, upload photos of receipts and view their current route on a map.
Also available is the new TMW Vehicle Inspection app, which enables drivers to perform pre- and post-trip inspections, review prior inspection reports and confirm that appropriate repairs have been completed. In addition, the app connects with TMT Fleet Maintenance software to streamline the creation of accurate repair orders and help reduce vehicle downtime.