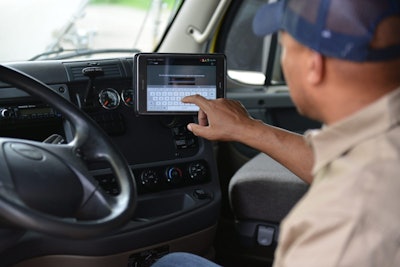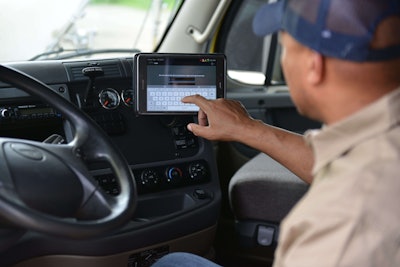 PeopleNet, a Trimble Company, announced new products and enhancements to its fleet mobility platform.
The Samsung Galaxy Tab E, Note 4 and J3 are now certified to run PeopleNet software. The certifications mark a further expansion of display options that can run proprietary company apps, approved third-party programs and PeopleNet software all on the same device.
PeopleNet says the certification of the additional devices is part of its larger focus to address the market need for Company-owned, Personally Enabled (COPE) devices that provide multi-platform accessibility and enterprise mobility management.
A new Custom Reporting feature is now available in PeopleNet Central Intelligence — a user interface that combines all of PeopleNet's reporting, business intelligence and analytics solutions in a single web portal.
With Custom Reporting, the company says its customers can create their own custom dashboards and reports and access data with an online database connection (ODBC). This new capability allows fleets to create reports specific to their business needs that go beyond the standard PeopleNet Dashboard and Report offering.
"The launch of Custom Reporting gives users a whole new level of data customization and serviceability," said Tom Fansler, President, Trimble Transportation Mobility Analytics. "No other solution offers this breadth of capabilities to allow for on-the-fly data discovery, blending and reporting with dynamic visualization to help provide insights into a fleet's performance."
Custom Reporting also gives users the ability to blend PeopleNet data with other fleet data to create charts, graphs and analysis.
Over the course of the last 12 months, PeopleNet has released updates to its Video Intelligence platform aimed at improving the functionality and user experience for drivers and back office personnel. They include:
Side view cameras that offer better views of blind spots for drivers, a larger area of vision to capture video and more product durability due to being integrated as part of the spot mirrors.
Enhanced reporting with the launch of Executive Summary Dashboards to provide a high-level overview of top Onboard Event Recording (OER) events as well as driver coaching trends.
Real-time visibility with the Snapshot feature to give back office users a real-time view of a camera on a particular truck.
Expanded filtering options, including the capability to filter by terminal to view videos and identify driver trends in a particular geographical region.
Configurable posted speed warnings to determine when drivers are exceeding the posted speed limit and allow for improved coaching.
The announcements were made during the 2017 in.sight user conference and expo in Nashville, Aug. 13-16.