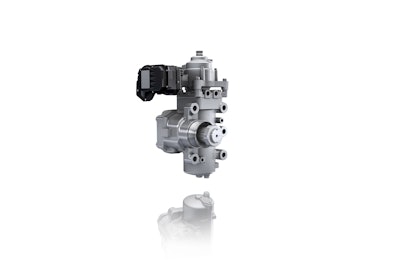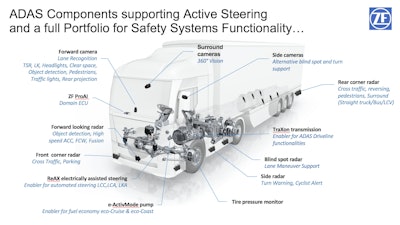 While we all wait for trucks to drive themselves, ZF is focusing its latest innovation on making a mundane daily driving requirement a little easier.
Commercial Vehicle Technology General Manager Mitja Schulz says the ZF has earmarked more than $200 million for autonomous driving technologies, including software and sensors. Among the things the company plans to roll out in the months ahead is its ReAX platform, a column-mounted electrically-assisted hydraulic steering system.
The unit uses sensors to determine driving conditions, and then controls an electric motor in the steering column to provide the appropriate torque feedback to the driver.
Plainly stated: It makes the truck easier to drive, although Schulz concedes that isn't the most significant benefit.
"The main driver is to offer functionalities that improve safety on the roads," he says.
ReAX improves safety by reducing the driver's workload.
The steering wheel requires as much as 70 percent less effort to turn in a static state, boosting ergonomics, reducing driver stress and fatigue.
I took two different units equipped with ReAX – a Peterbilt 579 and Volvo dump truck – for a quick spin at ZF's LaFayette, Ind., facility, and when compared to the effort needed to turn a "normal" steering wheel the difference is staggering.
With ReAX, I could easily turn the wheel with one finger while parked and that the unit self-centers, you never have to guess when the wheels are back straight.

ReAX enhances maneuverability by controlling the response of the steering system, providing better positional control and the ease of steering makes it easier to maneuver in tight spaces. The system shined even brighter in a tight figure-eight test, when the truck glided through quick and deep left and right turns.
ReAX initially launched in 2006 in the RV segment and was marketed to help non-professional drivers drive large vehicles. Two years later it added the bus market, where TRW refined the system's lower speed maneuverability function.
When ZF acquired TRW in 2015, ReAX's scope widened to include over-the-road commercial trucks.
A speed-proportional control system, ReAX needs less driver input in parking lots and tight spaces at low speeds, but it firms up at highway speed when you would want more rigidity in directional stability.
The learning system also compensates for road crowning and crosswinds by recognizing when a driver is having to hold the wheel off-center to account for the crown of the road or strong consistent wind. The system will hold that position itself, taking some of the strain off the driver.
With its ease of steering, ZF Global Product Planning Manager Mark Cartwright also sees ReAX as a strong play in driver recruitment and retention.
"It increases the size of the applicant pool because traditional burly truck drivers are going away," he says.
In third-party research conducted in 2015, 97 percent of ReAX users surveyed rated its drivability as excellent. Another 88 percent said they would recommend ReAX be spec'd on their next commercial truck.
Therein lies the rub: ReAX, while technologically ready for prime time, isn't available from trucking OEMs … yet.
Emphasis on the yet. That is likely to change in the months ahead.
Schulz says ZF is currently working with about 50 different customers globally on automated driving projects to varying degrees, adding that ReAX and its Level 2 capabilities is "an enabler of autonomous behavior."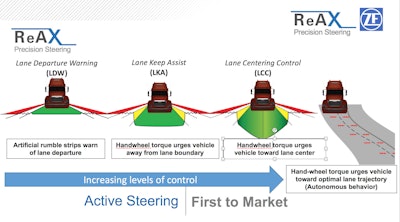 But in the more near-term, ReAX is more plug-and-play for lane departure systems, including lane departure warning, lane keep assist and lane centering control.
ZF Lane Keeping Assist Technology combines ReAX precision steering with ZF's camera system to determine lane markings as boundaries providing steering correction assistance to reduce lane unintended departure, increasing driver awareness and aid in collision mitigation involving lane departures.
More than 30 percent of all crashes are lane departure events, and assuming 100,000 miles per truck and a 4 year trade cycle, the average crash liability per truck via lane departure is $53,000.
The amount of assistance ReAX gives to turning the wheels is obvious the first time you make a turn, and as we continue this march toward vehicle electrification and autonomy it is clear this system will play a large role in getting us there.