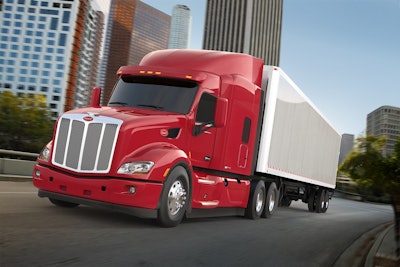 Peterbilt has made some enhancements to its most efficient truck – the Model 579 with the Epiq package – that for the 2018 model year will deliver another 8 percent fuel economy improvement, the company says.
Peterbilt's Model 579 Epiq is available with MX-13 and MX-11 engines matched with the Fuller Advantage automated transmission.
Fuel economy improvement incorporated into the 2017 MX engines result in up to 4 percent improvement over the prior model year and the 2017 release of Predictive Cruise Control on the MX engine provides additional fuel economy improvements of up to 3 percent.
The final 1 percent comes from the recently introduced Paccar 40,000 pound tandem drive axle, which is standard with the Model 579 for line-haul applications.
Peterbilt's efficiency package isn't the only thing getting updates. The company also introduced new interior color options, automatic interior temperature control for the Model 579 and several other features to improve driver comfort.
The Model 579 offers two new interior colors: Sterling Gray and Saddle Tan are both available in Prestige, Premier and Platinum interior levels. These new colors offer an enhanced appearance, commensurate with Peterbilt standards of styling and quality.
Enhanced comfort features of the Model 579 include updated Auto Start/Stop technology on the Peterbilt SmartAir No-Idle Sleeper Air Conditioning System on Model 579 tractors equipped with 72-inch or 80-inch sleepers. The system can provide increased engine idle charging with idle rates as high as 900 RPM for quick charging power.
An new larger 22-inch x 24-inch sleeper window has also been added to improve comfort, increase ventilation and improve aerodynamics. It provides a tilt style opening increasing air flow and natural light throughout the interior.