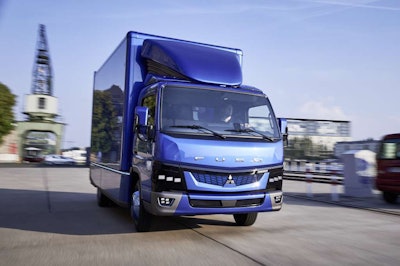 Jim Bevan, of Daimler Trucks North America, spoke to the ATA Technology & Maintenance Council's attendees Wednesday about the current and possible future use of hybrid technology.
Bevan, who is the manager of mechatronics powernet for Freightliner and Western Star, says the current highest density level for a power source remains diesel fuel.
"When you look at long range trucking, diesel is here to stay for the foreseeable future," Bevan told the crowd before demonstrating several uses of hybrid sources of power.
He outlined the capabilities of a micro-hybrid, mild-hybrid and the full-hybrid.
"There's not a huge benefit to the micro hybrids now," he says.
He says the full hybrid has a much higher voltage than the others, but he believes the industry will begin to take a deeper look at the mild hybrid.
"It's in passenger cars already," Bevan says. "We are considering it for the trucking side and will investigate the benefits and performance of that. In general, you have a 48-volt pack for regeneration with these."
The advent of electric powered vehicles is not something new, Bevan says, but through the years there had been little feasibility to using them.
"Now they are starting to emerge more and more," he says. "Electric vehicles are at the forefront now."
He pointed to last week's release of the Fuso eCanter, which he says has a six-battery pack.
"You could potentially charge the battery in an hour. It lasts 62 miles so it's designed for delivery and pick up."
For the immediate time being, Bevan believes that hybrid tractors will continue to be developed for lower range situations, such as short distance deliveries.
"Fleets have to consider range, payload, several things to determine rather than just the purchase price. They should consider the costs involved," he says. "There is no oil and the cooling circuits require less repair.
"For the future they will have limited range but the technology will continue to evolve. I am a firm believer in finding better, more innovative ways of doing things."