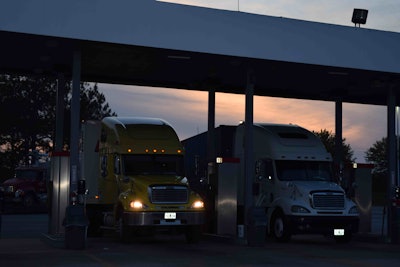 Between Hurricane Harvey's impact on fuel prices and Hurricane Irma now wreaking havoc in Florida and other parts of the Southeast, diesel fuel prices remained high during the week ending Sept. 11, increasing by 4.4 cents, according to the Department of Energy's weekly report.
The increase brings the price of a gallon of on-highway diesel to $2.802, the highest diesel prices have been since July 2015. The West Coast less California saw the most significant increase during the week, rising 7.6 cents, followed by the Lower Atlantic region, which saw a 5.1-cent increase.
The nation's most expensive diesel can be found on the West Coast with California's prices averaging $3.179 per gallon, followed by the West Coast less California at $3.007 per gallon.
The cheapest diesel can be found in the Gulf Coast region at $2.647 per gallon, followed by the Midwest region at $2.753 per gallon.
Prices in other regions, according to the DOE, are:
New England – $2.761
Central Atlantic – $2.922
Lower Atlantic – $2.776
Rocky Mountain – $2.827
ProMiles' numbers during the week had diesel prices increasing by 6.3 cents to $2.765 per gallon nationwide.
According to ProMiles' Fuel Surcharge Index, the most expensive diesel can be found in California at $3.142 per gallon, and the cheapest can be found in the Gulf Coast region at $2.642 per gallon.
In light of Hurricane Irma in Florida, ProMiles' Chris Lee notes only about a third of truck stops reported fuel prices Monday morning, and most of the reporting locations were around $2.90 per gallon or higher. Some stations in the Florida panhandle have remained around $2.75 per gallon, Lee adds.