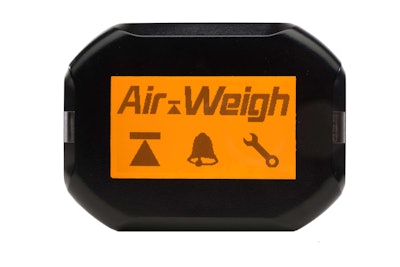 Air-Weigh announced that its LoadMaxx trailer scale will now be available for spring ride suspensions.
"Our goal has always been for fleets to maximize the payload they haul, and minimize the complexity and effort in their operation," says Air-Weigh CEO Martin Ambros. "LoadMaxx for spring ride provides an efficient weighing solution for the roughly 50 percent of the market using leaf spring trailers. With an extensive history in mechanical suspensions for trucks, this is a natural extension of our product line."
Through deflection sensor technology, LoadMaxx spring ride accurately measures on-the- ground weights. The leaf spring scale is currently designed for tandem axle trailers, which covers the vast majority of the market. It's available for retrofit installation as well as new trailers.
"This new scale is in response to customer demand," says Director of Trailer OEM and Dealer Sales Bob Zirlin. "Many trailer OEMs in the dry van, dump, intermodal chassis, bulk commodity, and vocational trailer segments want to offer self weighing trailers for their weight sensitive spring ride customers. They have been reducing the weight of their trailers, and LoadMaxx complements these lightweighting strategies."
In April Air-Weigh introduced its latest LoadMaxx trailer scale for air ride trailers. LoadMaxx for spring ride will include the same icon-based touch screen display with built-in LED alarm lights and compensation for temperature and altitude change. It also comes with PIN protected calibration and English, Spanish and French language options.
Adding the optional ComLink to the air ride or spring ride trailer scale enables drivers to view steer, drive, trailer, GVW, and net payload on any LoadMaxx equipped tractor. Tractor/trailer weight information can also be sent to the fleet's management software via the built-in data communication interface.
The ComLink can also make any smart device into a scale by using the LoadMaxx app to view weight data.