Shell's futuristic concept tractor-trailer, dubbed the Starship Initiative, is on track to be completed within the coming months and could perform a cross-country efficiency test run as early as the first quarter of 2018, the company announced Sept. 21.
The rig, which is being built by AirFlow Truck Company, aims to combine already-existing technologies to create the most efficient truck in the world, as measured by freight ton efficiency, says Shell and Bob Sliwa, head of AirFlow and the project's chief designer.
The Starship will lean heavily on lightweighting and aerodynamics. "We've obsessed about its aerodynamic shape," says Shell Rotella's Bob Mainwaring, the Technology Manager for Shell's Innovation segment. He pointed to the truck's front end, the tractor-trailer gap closure systems, aerodynamic skirts that run around the entire truck and trailer, the trailer's tail and under-the-tractor aero systems, all of which combined "halve the aero drag of the vehicle compared to the standard U.S. truck today," he says.
Relative to lightweighting, the truck's cab is made of carbon fiber, "which is ridiculously light," he says.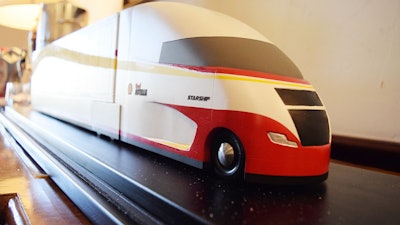 Shell's work and investment in the Starship Initiative is part of the company's focus on the future of energy use and transportation, Mainwaring says. Initiatives must be taken today to find solutions to meet the global energy demands anticipated for 2050, Mainwaring says.
"We're using technologies available today to design an energy efficient truck capable of reducing energy usage associated with goods transport in a material way," he says. "The main aim of the Starship is to attempt to minimize the amount of energy it takes to transport a load of cargo from Point A to Point B."
The truck will run on diesel. Its designers opted for a Cummins X15 engine paired with a specially spec'd Eaton transmission.
There's no mpg target for the truck's cross-country test run likely to occur early next year, says Megan Pino, global brand manager for Shell Rotella. "We don't think acheiving a specific number is necessary to showcase success," she says. Instead, "we're challening ourselves to see how good we can be."
Shell originally announced the project in March 2015, and work has been underway since to design and build the tractor-trailer concept.