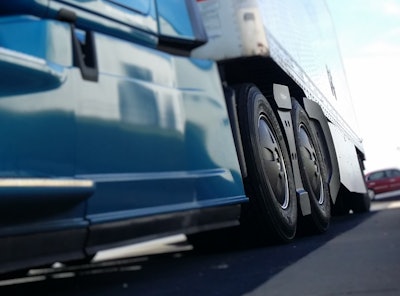 FlowBelow Aero, maker of tractor-mounted aerodynamic add-ons, announced this week at the North American Commercial Vehicle show that it has added a new quick-release fairing option for the company's flagship Tractor AeroKit system.
The quick-release mounting system allows the driver of the truck to remove the fairings easily in seconds and without tools when installing tire chains, for example. The new feature adds accessibility options for fleets that may have otherwise been reluctant to adopt the system, the company says.
The Tractor AeroKit improves aerodynamics of the company's wheel covers by also controlling the airflow between the wheels and behind the wheels. Based on SAE fuel economy testing, the fairings have demonstrated fuel savings of 2.23 percent in combination with wheel covers, which is over three times the fuel savings of wheel covers alone, the company says.