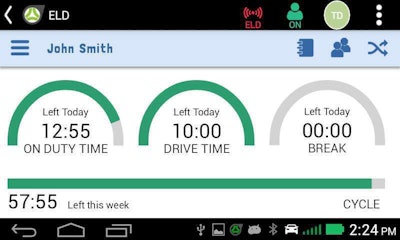 HighJump announced today the integration of the company's Prophesy Dispatch TMS, a software system for truckload carriers, brokers and private fleets, with Teletrac Navman Director, an ELD and fleet management system. The companies say the integration creates a workflow from the second an order is initiated to the moment it is delivered – and ensures compliance with the upcoming electronic logging device (ELD) rule.
The integration can give dispatchers a real-time view of available hours for each driver, as well as visibility into asset location, fuel consumption, driver behaviors, safety analytics and vehicle diagnostics.
The interface also works with Teletrac Navman's unified Drive app, part of the Teletrac Navman Director platform. When a dispatcher creates a load, data is automatically sent to the driver's in-cab device, and in turn, all confirmations, arrivals/departures and other updates sent back by the driver are processed.
"By combining our technologies, we're allowing dispatchers and drivers to focus more on their jobs and providing the service their customers expect, and less on the legwork of communicating load information," said Joe Couto, chief operating officer at HighJump.
"Through this strategic integration, dispatchers and managers now have a direct line of sight into all aspects of a fleet – right from the office or their mobile device – and the opportunity to achieve greater business insights," said Sid Nair, senior director, Transport & Compliance, Teletrac Navman.
The optional integration is available to both current Prophesy Dispatch and Teletrac Navman Director customers.