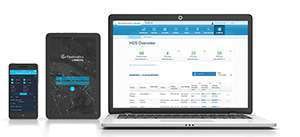 Fleetmatics, a Verizon Company, has registered its Fleetmatics Reveal LogBook Electronic Logging Device (ELD) for Android with the Federal Motor Carrier Safety Administration (FMCSA).
Reveal LogBook ELD manages drivers' records of duty status (RODS), records and stores HOS information, and meets all technical specifications mandated by the FMCSA, the company says. Fleetmatics says it will also continue to support customers who monitor their FMCSA RODS and HOS regulations with the LogBook AOBRD-specific application.
The company says fleets utilizing Reveal LogBook applications have access to 24/7 driver support. According to FMCSA regulations, motor carriers must select and install an ELD solution, and ensure drivers are trained to use them. Drivers must also understand and be able to use ELDs by the required December 18 deadline, including how to annotate and edit RODS, certify RODS and collect required supporting documents.
"Reveal LogBook ELD makes the transition to electronic logging simple and fast with no additional hardware," said Todd Ewing, director, product management for Fleetmatics. "The ELD mandate deadline is coming up in just a couple of months, and we're ready to help get customers up and running very quickly on our FMCSA-listed solution."
The application includes an improved Driver Vehicle Inspection Report (DVIR) functionality and a redesigned user interface that simplifies the transition to ELD for both drivers and the back office. Fleetmatics Reveal LogBook ELD Edition is available now for download in the Google Play store.