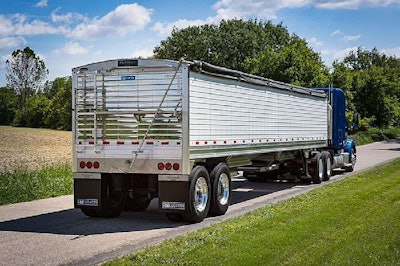 Stoughton Trailers on Thursday announced the release of its newly designed Platinum Series grain trailer, available in 34-foot, 40-foot and 42-foot lengths in eight models.
All Platinum Series grain trailers come standard with a 34-degree hopper slope for faster and better clean-outs and an "easy-opening" two-stage door – constructed of corrosion resistant materials – decreases the amount of torque needed by the operator to begin emptying the load. In addition, the liner is now removable, enabling easy removal to service the trailer components behind the liner panels.
On the front and rear, the new handrail has been moved further up and away from the trailer to allow easier platform access and improve safety.
Platinum Series' new front wall is made of composite panels with stainless steel front corners as standard. The top divider rail is now 25 percent thicker to provide additional strength. Standard on all Platinum Series, aluminum subframe grain trailers have hot dipped galvanized steel supports which connect the subframe to the cross members. In combination with the aluminum subframe, this offers a more durable and corrosion resistant solution. The front upper rail and top shelf have been redesigned to improve strength.
The lights on the upper rear header of the trailer now function as brake lights and turn signals.
The patented work area lights are standard, offering a superior solution when unloading at night. Each hopper/trap is equipped with 3 mini LED lights, integrated into the lower trap frame to greatly reduce the chance of being damaged. The crank area is equipped with 1 mini LED light.
All Platinum Series grain trailers come standard with two rows of 7 mini LED lights on 40- and 42-foot trailer models. The lights are grommet mounted, easy to replace and carry a lifetime warranty.
Optional features include stainless steel rear panels, electric traps and electric tarps.