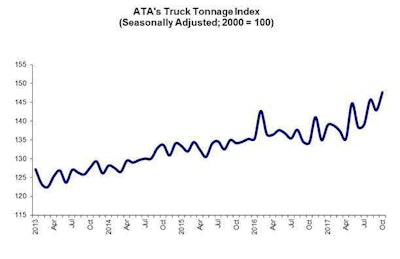 CCJ's Indicators rounds up the latest reports on trucking business indicators on rates, freight, equipment, the economy and more.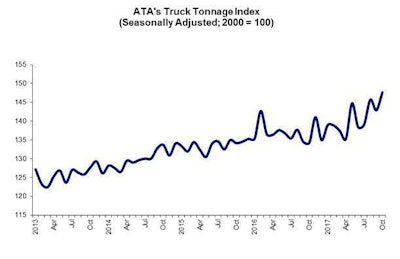 The amount of freight carried in October, as measured by ATA's monthly Truck Tonnage Index, grew 3.3 percent in October from September and 9.9 percent in October from the same month last year. That's the the largest year-over-year increase since December 2013.
Year-to-date, compared with the same ten months in 2016, the index is up 3.1 percent.
"Continued improvement in truck tonnage reflects a much stronger freight market," said ATA Chief Economist Bob Costello. "This strength is the result of several factors, including consumption, factory output, construction and improved inventory levels throughout the supply chain. Additionally, the 6.7 percent rise in tonnage over the last four months suggests to me that retailers are expecting a good holiday spending season."
Editor's note: This story originally highlighted September tonnage data, rather than the more recent October data.