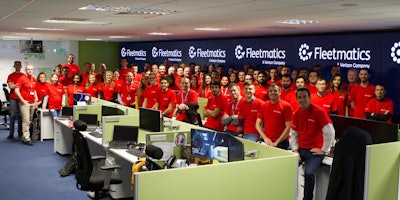 Irish-based company Fleetmatics, acquired by Verizon in 2016 with operations in the United States, announced its plans to move its team into a state-of-the-art campus in Sandyford, Co., Dublin. The move facilitates the continued growth at the company which has already hired more than 100 people in the past year. This recent recruitment brings the total workforce to about 250 people.
Fleetmatics was founded in Ireland in 2004 in a small office in Templeogue, Dublin, employing about 10 people in the first year of operation. With consistent investment in R&D and a global mindset, the company has been able to scale-up and now has a global customer base.
Fleetmatics has leased 90,000 square feet of space at the Atrium Building in Sandyford. The new facility will be completely re-designed for collaboration and communication in small, autonomous cross-functional teams.
The new building will also be home to the Network Operations Centre (NOC) which was officially opened earlier this year. The NOC monitors billions of system interactions a day.
Current and future employees are due to move into the new campus by mid-2018.
"Today is a really proud day for the company," said Peter Mitchell, chief technology officer. "To have evolved from a start-up based in a small office in Dublin, to being a large telematics player in Europe is something that continues to drive our Irish workforce to innovate and create new solutions for our customers. Since joining forces with Verizon Telematics, we have been able to further accelerate innovation in our sector and I'm looking forward to seeing this continued growth into 2018."