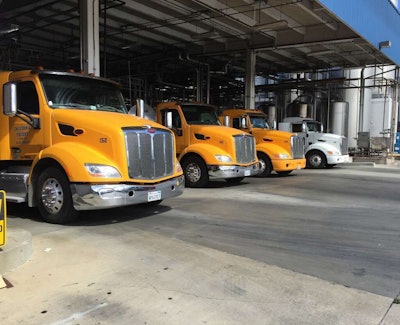 On Thursday, Nov. 30, Paul Hamilton held a meeting at CalFreight to discuss how data from electronic logging devices (ELDs) could be used to ensure compliance with California wage and labor laws.
ELDs capture detailed, driver-certified records of the workday. The primary purpose of the data record is for complying with federal hours-of-service rules, but the technology meets a secondary, and perhaps just as important need, for fleets to comply with California wage and labor laws.
California-based trucking companies can use the data to verify that drivers are compensated for all of the time they spend on duty. This is important since non-productive activities like inspecting equipment, fueling or waiting on dispatch have to be accounted for in driver pay.
State laws also require that companies relieve employees from work-related duties for meal breaks (30 minutes every 5 hours) and for rest breaks (10 minutes for every 4 hours), or compensate them if employees do not use the breaks.
In California, fleets have to verify that drivers are compensated for all of their time spent on duty for at least $10.50 per hour, the current minimum wage in California.
As director of transportation for Ripon, Calif.-based CalFreight, Hamilton has overseen the conversion from paper to electronic logs. The process began in March and today 90 percent of its drivers are set up.
"We're down to about three weeks left to get it all done," said Hamilton during an interview with CCJ on Nov. 30. He was referring to the Dec. 18 deadline of the Federal Motor Carrier Safety Administration's ELD rule, but also had state laws in mind.
CalFreight operates a fleet of 130 trucks to power its business divisions that include food-grade tanker, port drayage and rail intermodal. The food-grade tanker division mostly transports milk products in line hauls from dairies to plants inside and outside of California.
CalFreight was using the Fleet Complete asset management and vehicle tracking telematics platform before March 2017. After Fleet Complete purchased electronic logs provider BigRoad in March to expand the platform to include compliance, CalFreight followed suit.
The integrated Fleet Complete BigRoad platform is offered through AT&T. CalFreight deployed the BigRoad ELD app on Fleet Complete tablets and uses the BigRoad compliance dashboard as part of its web-based system.
By monitoring the real-time dashboard, fleet managers see the time remaining on drivers' hours-of-service clocks. With this information, "we can tell (drivers) what they can and can't do, as opposed to them telling us," he says. "This also helps us become more efficient in scheduling and planning."
The tanker division has the most pressing need to use ELD data to comply with state wage and labor laws, he says. CalFreight recently changed its driver compensation from a per-mile rate to a "hybrid" plan that pays a flat rate of $12 per hour and a per-mile bonus. The combined pay equals out to $20 per hour, on average.
With this new pay structure, the company has to track every minute and mile that drivers work to spell out the pay calculation on their paychecks.
"This is a great time for ELDs to come into play," he says. "It would be a nightmare keeping track of all the information on handwritten, paper logs."
At present, CalFreight exports time records from the Fleet Complete system into custom spreadsheets to calculate driver pay and audit for compliance with state labor laws, such as tracking meal and rest breaks.
Hamilton plans to have data from Fleet Complete integrated with future systems for planning, dispatching, billing and payroll. The company has grown from 50 to 130 trucks since 2015, and its office systems are due for an upgrade, he says, to a single, enterprise-wide platform for all divisions.
"I think ELDs gave us a shot in the arm to push quicker," he says. "Once you have data in an electronic format, you do not ever want to transfer it into a manual, static Excel spreadsheet. We are trying to build processes for every division to keep the data dynamic."