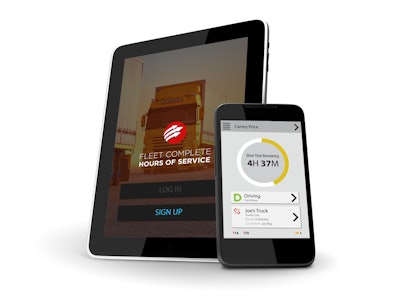 Fleet Complete, a global IoT provider of fleet telematics and mobile workforce technology, has acquired BigRoad, an hours-of-service (HOS) and regulatory compliance solutions provider. Terms of the transaction were not disclosed.
Fleet Complete says the partnership will enable it to offer an electronic logging device (ELD) compliance platform in North America.
Based in Waterloo, Canada, BigRoad was founded to address the new HOS regulations imposed on the commercial motor vehicle industry. The company released one of the first mobile HOS applications, BigRoad Mobile App, that today has over 480,000 downloads.
In advance of the ELD mandate, BigRoad launched DashLink, an engine-connected electronic logging device. Today, over 30,000 fleets in North America are using BigRoad to achieve ELD compliance ahead of the mandated deadline.
Fleet Complete's acquisition of BigRoad is part of the company's growth following its expansion into Europe in 2015 and Australia in 2016.
"BigRoad is an impressive organization that has had a laser focus on creating the industry's leading product for ELD compliance," said Tony Lourakis, CEO of Fleet Complete.
BigRoad will continue to operate and sell directly to owner-operators and fleets maintaining the BigRoad brand. The integrated Fleet Complete BigRoad platform will be offered through the North American partner channels, AT&T and TELUS.