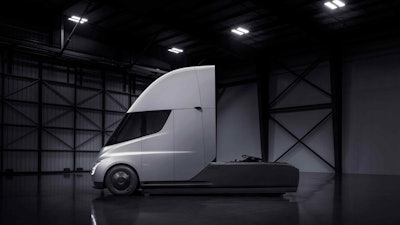 Anheuser-Busch on Thursday joined the list of carriers wanting first crack at Tesla's electric tractor, placing an order for 40 of the trucks as part of a company-wide strategy to employ cutting-edge technology to reduce the environmental impact and increase the efficiency of its operations.
"At Anheuser-Busch, we are constantly seeking new ways to make our supply chain more sustainable, efficient, and innovative," says James Sembrot, Senior Director of Logistics Strategy. "This investment in Tesla semi-trucks helps us achieve these goals while improving road safety and lowering our environmental impact."
The 40 semi-trucks, one of Tesla's largest reported pre-orders, will be fully electric-powered and equipped with autonomous driving capabilities, as part of the company's commitment to improving road safety and reducing carbon emissions.
A 300-mile variant of the Tesla Semi costs $150,000; the 500-mile model, $180,000; and a Founders Series will run $200,000, according to Tesla's website and each requires a $20,000 deposit.
Anheuser-Busch says integrating the Tesla semi-trucks into the brewer's distribution network will help achieve its commitment to reduce its operational carbon footprint by 30 percent by 2025 – the equivalent of removing nearly 500,000 cars from the road globally each year.
In addition to its partnership with Tesla, Anheuser-Busch is also working with Nikola Motor Company to develop and implement hydrogen-powered engines within its network, and with Otto and Uber Freight to test autonomous driving technology. The world's largest brewer has also partnered with Convoy to access on-demand trucking capacity.
In 2016, an Otto truck carrying 51,744 cans of Budweiser completed an autonomous truckload shipment from Anheuser-Busch's Ft. Collins, Colo. brewery to a distributorship in Colorado Springs, a distance of 132 miles – the first ever commercial beer delivery using autonomous driving technology.
"We can't wait to get these trucks on the road, and keep leading our industry forward to a greener, smarter future in partnership with some of the world's most innovative companies," Sembrot says. "The transportation industry is evolving fast, and we're really excited to play a leadership role in driving this evolution by integrating these new technologies across our network."
John Roberts, J.B. Hunt president and chief executive officer, says his company has placed a reservation for "multiple" Tesla tractors and retail giant Walmart also disclosed it has placed reservations for 15 trucks, deploying five in the U.S. and 10 in Canada. Canada is becoming a hotbed for Tesla Semi early orders. Canadian grocery chain Loblaw announced it would order a total of 25 of the new all-electric tractor as it works to convert its entire fleet to battery power by the end of the decade.
Grocery and discount house Meijer Inc., told Bloomberg News it would test four Tesla trucks and DHL has reportedly ordered 10.