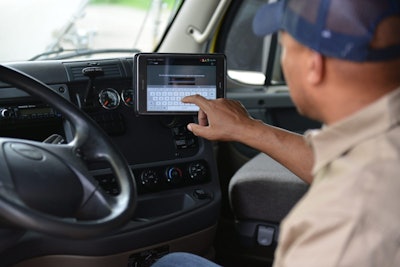 Carriers and other industry stakeholders can now comment on a request filed by the Owner-Operator Independent Drivers Association seeking to exempt certain small trucking companies from compliance with the electronic logging device mandate for at least five years. Drivers and carriers were required to begin complying with the mandate on Dec. 18.
OOIDA has asked the Federal Motor Carrier Safety Administration to exempt from the mandate small businesses (defined by the Small Business Administration as those with up to $27.5 million a year in revenue) who have no at-fault crashes on their record and who have a "Satisfactory" or "Conditional" safety rating.
Comments on OOIDA's exemption request can be made here through Thursday, Feb. 1.
The group says in its exemption request that drivers covered by the exemption would still be required to keep paper logs. The exemption would "allow small-business motor carriers to maintain their current practices that have resulted in a proven safety record," OOIDA says.
OOIDA cites concerns over cybersecurity, cost of compliance and lack of validation of e-logging devices as reasons for the exemption request. The group says a five-year exemption would give ELD manufacturers time to be vetted by regulators, would allow small-business truckers to determine which ELD best fits their operation and give law enforcement more time to analyze which devices meet regulatory requirements.