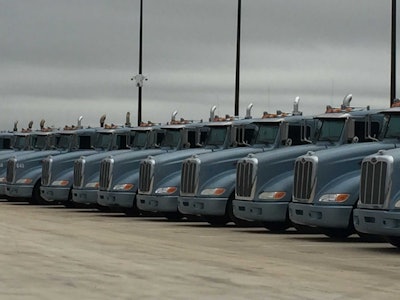 According to a report Friday from ACT Research, preliminary North America Class 5-8 net orders show the trucking industry booked 80,400 units last month, one of the highest volume single months in recorded history. ACT Research says the month's order volume is surpassed only by March 2006, during the frenzied period ahead of the EPA 2007 pre-buy.
Class 8 orders accounted for 48,700 units — a 107 percent increase year over year and a 41 percent jump from an already-strong December. January was the strongest month for Class 8 truck orders since March 2006.
FTR reported similar numbers for January truck orders, pegging preliminary Class 8 orders at 47,200 units — a 116 percent increase from last January.
"These levels were well above our already strong expectations and continue to indicate that the equipment markets are still reacting to the tight capacity in the truck marketplace," says FTR Chief Operating Officer Jonathan Starks. "January is normally a seasonally weaker month, except when the market is on a clear upswing. Near-record levels can't last for long, but orders could stay quite elevated throughout the spring."​