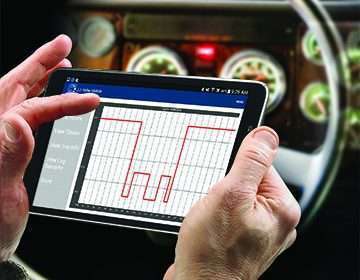 The Federal Motor Carrier Safety Administration has granted a short-term extension to carriers using Electronic Logging Devices from J.J. Keller & Associates. The extension allows their drivers to use paper logs until Feb. 28, 2018.
J.J. Keller initiated a call to the FMCSA to notify the agency that its ELD devices were having issues with a roadside inspection feature. The feature is an ELD requirement that allows drivers to wirelessly transmit log records to officers via email and through an upload to the agency's ERODS logbook auditing system through web services.
The ELD mandate, which went into effect on December 18, 2017, specified that telematics-type devices – which are most of the ELDs on the market today — must have the ability to use both wireless data transfer methods.
Before the ELD mandate, many electronic logging systems had an e-mail feature that drivers could use to send a summary report of their 8-day duty cycle to law enforcement upon request. The web services option was a new requirement for the ELD rule, which sends drivers' logbook data to the ERODS system.
On February 12, J.J. Keller released an update that it says enables the data transfer by web services to work successfully.
"We are confident the remaining issues will be resolved by the end of February," wrote Rustin Keller, executive vice president and chief operating officer, in a letter sent to customers.
The extension allows the drivers of any carrier using J.J. Keller's ELD product to continue using paper records of duty status in lieu of an ELD until Feb. 28. Drivers could also show officers a grid display of their logbook using their mobile devices.
The short-term extension is for carriers that switched from J.J. Keller's AOBRD product or who have implemented its ELD product after the December 18, 2017 deadline for ELD compliance. Carriers that continue to use AOBRDs from the grandfather clause are not experiencing issues, Keller wrote.