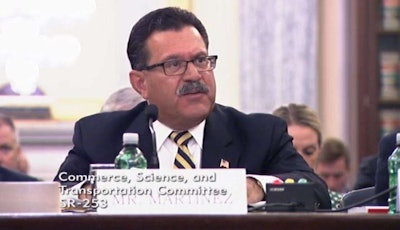 Embed from Getty Images
Raymond P. Martinez, President Trump's choice to head the Federal Motor Carrier Safety Administration in his administration, has been confirmed by the U.S. Senate and will now assume the role as Administrator of the federal government's trucking regulatory body.
Trump nominated Martinez in September. Martinez has spent most of his career in transportation-focused bureaucratic jobs, but he's never worked in the trucking industry or a trucking-specific oversight role. Since 2010, he's run the New Jersey Motor Vehicle Commision.
Testifying before a panel of U.S. Senators in October, Martinez said he intends to uphold the agency's electronic logging device mandate and institute data-driven reforms to the agency's regulatory process and, specifically, the oft-criticized Compliance, Safety, Accountability program. "We need to be using sound science," he said then. "The key thing is whether the data we use to compile these assessments are accurate, reliable and fair. If the data is unreliable, we lose credibility with stakeholders and the entities we regulate. And we do a disservice to the public."
Martinez succeeds Scott Darling, who ran the agency in the final two years of President Obama's term. Darling's term ended when Trump assumed office, and FMCSA Deputy Administrator Daphne Jefferson has headed the agency on an interim basis since last January.
The Senate confirmed Martinez's nomination late Tuesday via a voice vote.