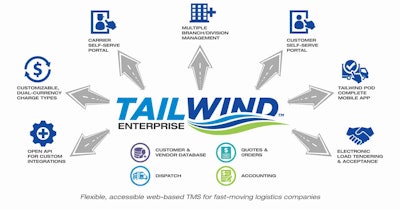 Tailwind Transportation Software has launched Tailwind Enterprise, a new web-based Enterprise Transportation Management Software (TMS) for small and mid-sized logistics companies.
"We are excited to launch Tailwind Enterprise for agile trucking companies and freight brokerages that need a system robust and flexible enough to manage their entire business, and allow for adjustments to their business model in the months and years ahead," said Murray Pratt, president and chief executive of Tailwind Transportation Software.
"Our new Enterprise application enables freight transportation companies who want to challenge the conventions and norms of the industry – those who want to compete through information sharing, accessibility and collaboration with all the stakeholders in the supply chain."
Tailwind Enterprise is offered on a monthly subscription basis and features a core TMS augmented by Enterprise features, including Self-Serve Portals. These Self-Serve Portals allow transportation companies to save on administrative time by providing self-service options for their customers, and their carriers, if they broker loads.
"We launched the Tailwind Pro web-based TMS a year ago to provide the market with an easy-to-access TMS with no contracts, no big installation charges or requirements, and no maintenance fees," continued Pratt. "We've now launched Tailwind Enterprise for those entrepreneurial, and enterprise logistics companies that want to challenge the conventions of the industry and find new ways to do business using an online, web-based platform. It even includes an open API for customers who want to create their own custom integrations."
Tailwind offers three tiers of its TMS software:
Standard – at $69/user/month
Pro – at $99/user/month
And now Enterprise – at $139/user/month
"At Tailwind we take and embrace customer feedback as a key element of our development planning," said Pratt. "We've had requests for features like Shipment Tracking, Asset & Load Matching, EDI capability, and Advanced Reporting. These features will be added to our Enterprise offering over the next four-months – and will help our customer engage in their very own digital supply chain transformation."
Tailwind also announced it will be holding a free webinar: Take Your Logistics Business Up to Warp Speed with Tailwind Enterprise on March 28th, 2018.