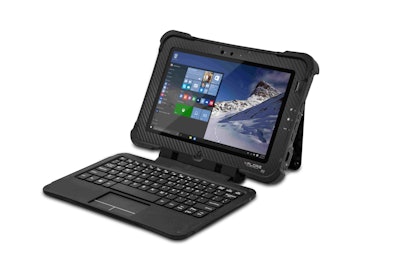 Among the factors to consider when selecting a tablet to support your present and future mobility needs are: Can it withstand constant vibration? Can it survive occasional drops? Does it have everything needed to perform tasks inside or outside the cab like inspecting equipment and capturing data, signatures or documents electronically?
Recently, Xplore Technologies sent CCJ its latest rugged mobile platform to test out in person — the Android-powered XBOOK D10. The company also offers a Windows-powered version called the XBOOK B10.
Judging by the looks alone, the XBOOK D10 has more features than are needed to run common fleet management apps like ELDs, DVIRs or dispatch messaging and workflow. While the Wi-Fi and attached stylus pen would come in handy, the I/O ports (USB, Ethernet, HDMI and SD cards) are more for an office environment.
This is by design since the company has more industries in mind than transportation.
"The recent uptick in worker mobility has led to increased market demand for more convertible computing devices that equally satisfy the data-intensive workflow demands of employees who tend to spend their time at a desk, as well as those frequently called into the field," explained John Graff, vice president of marketing, Xplore.
The XBOOK D10 could fill a niche for some transportation fleets, especially those that want added security. The device comes with an integrated fingerprint reader, for instance, that companies with slip-seat operations could use to authenticate drivers and secure sensitive mobile apps.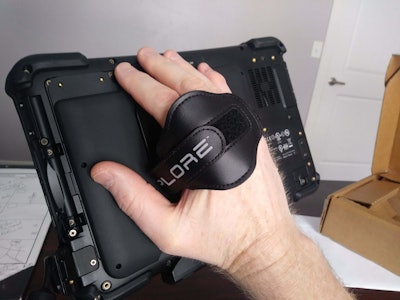 Within a few minutes of testing the XBOOK D10, it was apparent that the computer has functions that rival any laptop or desktop computer. Its touch mouse pad, for example, is a nice addition to the keyboard by making it easy to transition between the office and the field. It has a flexible footprint that allows for easy set up at home, on a desk, or mounted to a vehicle dash or secured to a field worker with the hand-strap on the backside.
The XBOOK D10 appears to be very durable with added protection around the corners of the touchscreen and a spill-resistant keyboard. Speaking of the keyboard, it is just as easy to type on as a full-sized one. The keyboard swings open and shut to cover the touchscreen display when not in use.
When closed, the keyboard stays attached to the display with a light magnetic seal. The keyboard can be quickly detached from the tablet if so desired.
Weighing in at 2.4 pounds, the rugged tablet is significantly heavier than a consumer-style tablet. In a mobile environment, it would seem necessary to have the tablet in a vehicle mount for the driver to work efficiently, although in a mobile environment the touchscreen works with gloves and is viewable in broad sunlight for data collection, review and sharing.
Xplore says it offers vehicle docks that have the VESA standard mounting pattern as well as a variety of mounting components to attach the dock to practically any vehicle. The company's sales and service teams consult with customers to determine the best mounting solution for any vehicle.
The vehicle dock details and other accessories can be seen at this link: https://www.zebra.com/us/en/products/tablets/xslate-b10.html The MSRP of the vehicle dock is $448.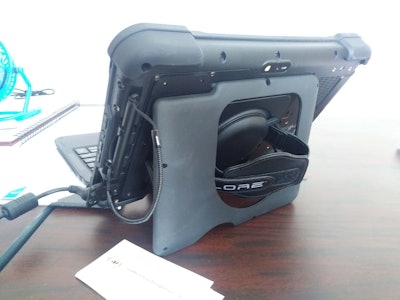 Another reason a vehicle mount seems necessary is to supply the tablet with power; its batteries seem to drain fairly quickly.
The picture quality of its 5 megapixel camera does not appear to be as sharp as that of a consumer smartphone, though it does seem to be plenty adequate for capturing images of documents and other items in the field.
The Android-powered version costs between $1,999 and $2,289 depending on options. The Windows version starts at $2,899 and goes up to $3,199.
To find out more about the new 2-in-1 detachable rugged tablet solutions from Xplore, visit www.xploretech.com/XBOOK. Xplore also offers a broad portfolio of rugged tablets that are purpose-built for energy, utilities, telecommunications, military and defense, manufacturing, distribution, public safety, healthcare, government, and field service sectors.