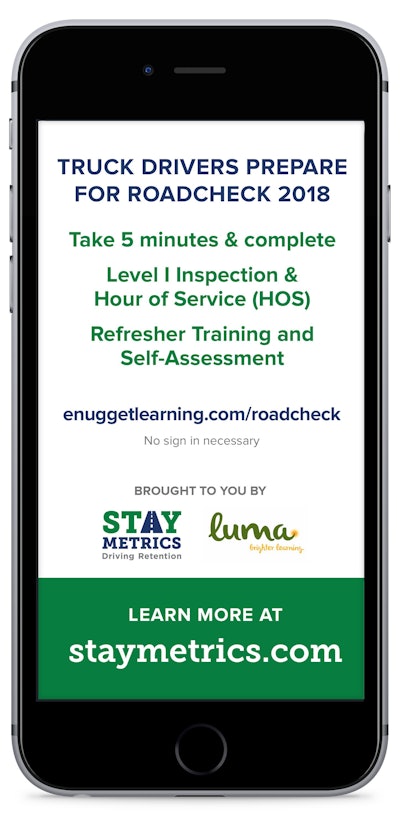 Stay Metrics, a provider of evidence-based driver engagement, training and retention solutions, has teamed up with a learning science company to offer free training for the Commercial Vehicle Safety Alliance's annual International Roadcheck.
Stay Metrics, in partnership with Luma, is offering a new online learning module and assessment, called an eNugget, that prepares drivers, fleet managers and others in the transportation industry for the upcoming CVSA International Roadcheck 2018, June 5-7, across North America.
The complimentary eNugget will be available for all of May and June at https://enuggetlearning.com/roadcheck. The module is optimized for viewing on any desktop or mobile device and no login or registration is required.
"Offering this complimentary training for Roadcheck 2018 is part of our mission and ongoing commitment to improve the work experience for drivers at their carriers and in the industry," said Tim Hindes, chief executive officer of Stay Metrics. "We encourage everyone to use and share this resource to better understand and retain essential information to be prepared."
From June 5-7, federal and state-certified CVSA enforcement officers will ramp up the number of full Level 1 inspections of trucks and buses. The focus of this year's Roadcheck is hours-of-service regulations. Last year, of the 15,000 out-of-service (OOS) orders given during the 72-hour event, 32 percent were due to hours-of-service violations.
Stay Metrics and Luma offered eNuggets for CVSA Roadchecks in 2016 and in 2017 that focused on tire safety and cargo securement, respectively. The e-Nuggets were accessed by 6,892 people and more than 3,080 completed the assessments.
Stay Metrics offers a full collection of eNugget training modules to motor carrier clients through its online DRIVE SAFE program. This monthly training series and library enables Stay Metrics' clients to provide their drivers ongoing training. Stay Metrics says the training eNuggets are highly effective and rewarding, which helps to increase driver engagement.
DRIVE SAFE training modules are based on learning science and cater to the unique learning preferences and culture of truck drivers. Drivers can leave anonymous feedback and rate DRIVE SAFE eNuggets. Luma uses the feedback to optimize the learning experience of drivers.
The average star rating in the DRIVE SAFE collection is 4.44 on a scale of 5.0.
To date, drivers of Stay Metrics' clients have earned more than 94,434 awards for completing DRIVE SAFE training modules. Awards can be automatically coupled with points to recognize important driver behaviors and achievements using the privately branded Driver Rewards platform Stay Metrics administers for its clients.
To date, carriers have awarded more than 160 million points, the equivalent of $800,000, to their drivers for completing DRIVE SAFE training modules. Drivers can redeem points towards a large collection of valuable wish-list items in the Driver Rewards platform.