CCJ's Indicators rounds up the latest reports on trucking business indicators on rates, freight, equipment, the economy and more.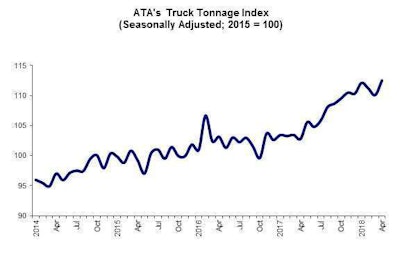 Tonnage jumped 9.5 percent from last April: The amount of freight carried by the for-hire trucking industry in April, as measured by the American Trucking Associations' monthly Truck Tonnage Index, climbed 2.2 percent from March, ATA reported Tuesday. What's more, tonnage grew 9.5 percent from last April.
Year-to-date, compared with the same four months last year, tonnage increased 8 percent, far outpacing the annual gain of 3.8 percent seen in 2017.
"Truck freight tonnage remains robust," said ATA Chief Economist Bob Costello. "And I don't think we've even seen the traditional spring freight season yet. People are just getting around to buying grills, lawn mowers, and yard tools. Plus, the produce season was also delayed due to a cold snap in early spring. Longer-term, strength in consumption, factory output, and construction should keep truck freight tonnage solid for the quarters ahead."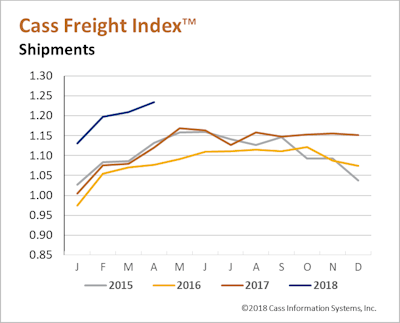 Freight shipments, expenditures keep climbing: According to Cass Information Systems' monthly Freight Index, freight shipments and freight expenditures continue to gain steam, despite year-over-year comparisons to strong months last year. Freight shipments in April climbed 10.2 percent from the same month last year, while expenditures — the amount spent by shippers, etc., freight transportation — rose 12.8 percent. Month over month, shipments grew 2.1 percent, and expenditures climbed 0.6 percent.
"They are still displaying accelerating strength on top of increasingly difficult comparisons, but while capacity is tight, it is slightly less tight. That said, demand is still exceeding capacity in most modes by a significant amount. In turn, pricing power has erupted in those modes to levels that spark overall inflationary concerns in the broader economy. As we explained in previous months, we do not fear long-term inflationary pressure as technology provides multiple ways to ever-increase asset utilization and price discovery in all parts of the economy, especially in transportation."