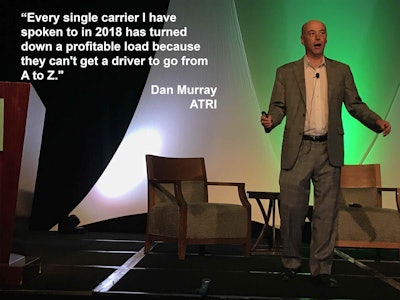 Erratic work hours, extended time away from home and minimum age restrictions pose challenges to trucking's ability to attract new talent and keep existing talent.
Industry-wide driver turnover rate hit 86 percent in 2017, up slightly from 2016 but down measurably from the several years before.
Speaking at CCJ's annual Spring Symposium in Hilton Head, S.C., Wednesday, American Transportation Research Institute (ATRI) Vice President Dan Murray says a shortage of drivers was the top concern of 2017, up six spots from 2016.
"Generally speaking, the drivers say that 'fix all these other things (like truck parking and compensation) and you don't have a driver shortage,'" he says, "[but,] every single carrier I have spoken to in 2018 has turned down a profitable load because they can't get a driver to go from A to Z."
Despite marginal overall job growth industry-wide, the truck transportation segment lost 5,500 jobs in April according to the U.S. Bureau of Labor Statistics – the highest employment decrease in two-and-a-half years.
"That happens every April," says Tim Denoyer, vice president and senior analyst at ACT Research. "There is a seasonal effect where drivers tend to leave every April and some of that is going back to construction jobs and other things."
With drivers switching career fields fleets are having to bring new and younger drivers in, but that hasn't proven to be easy to-date. Murray says some of the problem with attracting Millennials into trucking is their perception of the job itself.
"Maybe we're not selling the industry the right way to this generation," he says.
The average CDL candidate is in their the early to mid-30s and in search of a career change. Executive Director of the Commercial Vehicle Training Association Don Lefeve says that sends the wrong message to Millennials who could be interested in the field.
"There's a correlation about being able to move from high school and into trucking and the perception of that image," he says. "How are you going to improve that image if you're always viewed as a second or third career option?"
Truck parking also consistently ranks as a chief concern for both drivers and carriers, and Murray says the lost time – up to 56 minutes a day according to an ATRI survey – looking for a vacant and legal place stop a truck is chasing people away from the industry.
"That equates to about $4,600 a year in lost wages," he says. "That's almost 10 percent of a driver's annual wages. The frustration associated with dealing with truck parking is enough to say 'I'm out of here.'"
Congestion is also a factor in lost wages and wasted time, costing trucking more than $63 billion annually and 996 lost hours. Murray says that's the equivalent of 362,243 drivers sitting idle for a year. Heavy traffic and a lack of parking have made long-haul routes less attractive as more drivers seek opportunities that give them more home time.
"We are losing a lot of commercial drivers to urban, suburban hub and spoke trips," Murray says, noting that truck registrations have skyrocketed but have mostly been driven by straight trucks. "We're watching odometers and trip lengths go down. That's a function of e-commerce."
Attracting drivers to the industry isn't as simple as throwing more money at the problem, says Roadmaster Group director of marketing, hiring and development Mike Fisk.
"Wage matters but if I don't like going to work everyday, it doesn't matter what my pay is," he says. "Drivers tell us it's wages. It's home time. It's respect … Two of the three [concerns] aren't wage-based."
"What I hear primarily is home time," says Lefeve.
To bring more bodies into the industry, Star Fleet Trucking President Joel Pladson says it's likely that in the near-term that certain lanes of interstate traffic will be opened up to 18-20 year old commercial drivers. However, Fisk says such a move wouldn't solve the root of the problem.
"That allows companies to not address the core issues of retention because it's going to bring an influx in," he says. "I'm not concerned with the average age of drivers getting older. I'm just happy if they stay with me five-plus years."
Companies with low driver turnover, Pladson says, enjoy retention success because that is the focus of top executives.
"If your CEO wants more sales, then that's what you're going to get," he says, "but you're going to have a higher turnover rate."