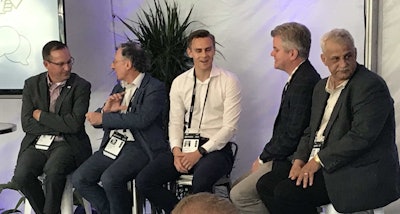 For fleets looking to slash their fuel bills, platooning is a topic that will not go away.
A panel assembled at Michelin's Movin' On summit in Montreal this week discussed the benefits and hurdles that comes with linking trucks together semi-autonomously.
Mike Roeth, executive director of the North American Council for Freight Efficiency, says the fuel savings between the front and trailing truck is about 7 percent at a following distance of about 50 feet under ideal conditions. However, considering factors like traffic congestion, the real world number is probably closer to 4 percent.
The concept of platooning sounds more technologically advanced than what it really is, Roeth adds.
"It builds on technology that is already being purchased," he says, "like lane keeping technology and automatic braking. A lot of the technology that is required to platoon two trucks is already on the truck. All we have to do is figure out the vehicle-to-vehicle communication."
Beyond the trucks' ability to communicate with one another, regulatory hurdles lie ahead.
"There's only 45,000 platooning miles available in the U.S.," says Bill Brentar, vice president of maintenance and engineering for UPS. Platooning is currently only allowed under certain conditions in 17 U.S. states. "When you limit the opportunities, that limits [fuel] savings and [safety] enhancements."
Fleet owners are quicker to embrace the concept, but even in states where platooning is allowed, driver's aren't clamoring to be involved – especially if that means following closely another driver they don't have a relationship with.
"I'm not sure I can force anybody to platoon," Brentar says, adding UPS sees a fit for the practice depending on many variables. He says initially UPS would seek driver volunteers.
Platooning allows trucks to follow at a distance that Peloton Technology Director of Advanced Development and Product Planning Shad Laws says, "would be impossible for a human driver to be safe."
By closing that gap, aerodynamics and fuel economy improves across the platoon.
Bernard Jacob, director of French Institute of Science and Technology in Transportation, Planning and Networks (IFSTTAR) says drivers changing positions every three hours helps fight fatigue that comes with staring at the back end of the lead truck. His agency is kicking off a three year pilot test in Europe next week with the goal of refining platooning technologies and reducing the following distance to 5 meters by 2020.
Roeth says it's important to distinguish the difference between human-piloted platooned trucks and a fully-autonomous truck. Scania Project Manager Christian Bergstrand says platooning is the pathway to autonomy.
"We believe we can create value with platooning before we take away the driver," he says. "Platooning will be the use case in which you will see completely autonomous vehicles on the road."
In order to maximize platooning's potential, Bergstrand says OEMs will have to collaborate on infrastructure and IT elements.
"The biggest value is to society…to increase safety and efficiency of the transport system," he says, adding Scania expects to put the first commercial platoon on European highways in "the next couple of years."
"If we're not going to talk across all makes and brands and in the aftermarket, then that limits [platooning] opportunities," Brentar adds.