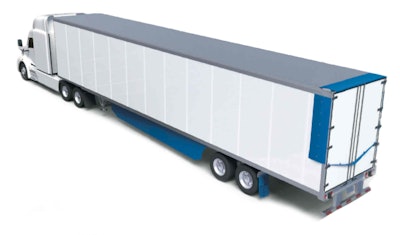 Michelin is expanding out of the wheel well.
The company on Sunday introduced Energy Guard, a complete five-piece SmartWay-verified aerodynamic trailer kit for the commercial trailer market. The announcement was made at ATA's Technology & Maintenance Council (TMC) Annual Meeting in Atlanta.
Michelin describes Energy Guard as an "easy-to-use, fuel-efficient and aerodynamic solution." Consisting of a resilient trailer skirt, trailer-end fairings, aerodynamic mud flaps and a wake reducer, Michelin says its integrated kit eliminates the need for boat tails or combining elements from various vendors. Available for use on 53-ft. dry-van truck load, refrigerated truck load and other long-haul and super-regional applications, Energy Guard "contributes to the sustainable progress" to moving people and goods, says Adam Murphy, vice president, B2B marketing at Michelin North America.
"Fleets can be frustrated with the current market solutions for fuel savings as they strive to improve their margins and competitiveness," says Murphy,"Our Energy Guard solution can result in a 7.4 percent fuel savings. Best of all, it requires no driver interaction in order to achieve these impressive results."
Michelin says the fully-integrated Energy Guard kit boasts several innovations with its patent-pending design. The resilient trailer skirt integrates with other aerodynamic components, while its advanced technology enables coverage and stiffness without sacrificing durability. The skirt's flexible design folds out of the way if it strikes an obstacle or debris, while the trailer-end fairings direct airflow to the back of the trailer. Michelin says the system weighs around 200 lb. in total.
Additionally, Murphy says the wake reducer minimizes the effect of the recirculation zone behind the trailer. The trailer end fairings and wake reducer are automatically functioning, always activated requiring no driver actions. The aerodynamic mud flaps reduce vehicle drag and road spray.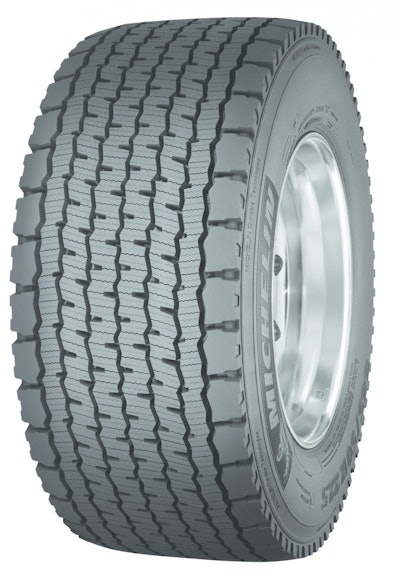 Michelin Americas Truck Tires also on Sunday introduced its X ONE LINE GRIP D drive tire. The first launch in the revitalization of the X1 portfolio, the X ONE LINE GRIP D will be available in May. Murphy says the tire is developed to maximize driver confidence in harsh weather operating in long-haul and super-regional routes.
Michelin says the tire will meet SmartWay requirements for low-rolling resistance tires and replaces the market-leading wide-base single, the X ONE XDN2. It is available in 445/50R22.5 and 455/55R22.5 sizes, allows fleets to carry 389 lb. of additional payload versus dual-wheel applications, critical for weight-sensitive fleets, the company says.
"Protecting drivers and their loads while providing outstanding total cost of ownership are key factors for driver retention, load care and uptime," Murphy says. "Michelin X ONE LINE GRIP D is the tire for miles of confident driving and all-weather grip while offering the right balance of fuel efficiency, weight savings and long tread life. The latest X One introduction continues our leadership in wide-base single innovation and provides a market-leading solution."