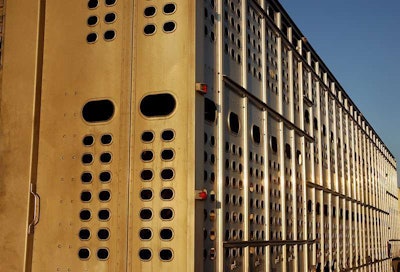 Responses to a CCJ poll published last week on whether the electronic logging device exemption for livestock haulers should be extended another year, through next September, showed no clear consensus on the issue among CCJ readers.
More than half of the poll's respondents (57 percent) said the waiver should not be extended, while the remaining 43 percent saw the need for the waiver to be prolonged.
Siding against the extension, 18 percent of poll respondents said regulators instead should focus on altering hours of service regulations for livestock haulers, rather than granting them another year to run on paper logs. Thirty-nine percent of respondents voted outright that all carriers and drivers should be required to comply with the mandate.
"Why give special status to an operation that could use team drivers to eliminate most of HOS conflicts?" asked commenter John Bigham. "I understand the half-hour break suspension. However, to allow paper logs is the government giving a wink and nod to be creative with the log. The same rules apply eld or paper, but you can cheat on paper. Where is the safety in that? Isn't that the reason for the ELD mandate?"
"If ELDs are for safety, and that's what the government say they are for, then why isn't it safe for them not to use them and most other truckers to use them?" said a commenter under the name Richard.
Commenter Janet Perez Prescott, however, noted the challenges of using teams to address the issue. "I believe that most do not understand the nature of transporting livestock," she said. "Team drivers is just not a long term sustainable solution. There are just not enough teams out there to fill all the seats. The livestock industry want to operate legally. Congress has to make adjustments to HOS in order for them to drive legal and efficiently."
Another respondent, C.W. Reynolds, agrees with Prescott's assessment. "It does not pay enough for a team. Barely pays enough for a single driver considering the complicated nature of hauling live animals."