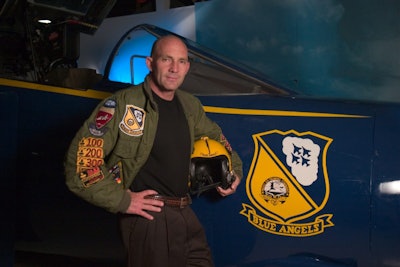 A number of speakers have been announced for November's CCJ Solutions Summit, including former Blue Angels pilot John Foley, who will serve as the keynote speaker for the fleet executive event.
The event will be held Nov. 12-14 in Phoenix, Arizona, at the Sheraton Grand at Wild Horse Pass. The theme of the event is "Managing Prosperity" and will help attendees understand how to manage success during trucking's recent surge.
Foley will speak on inspiring teamwork, trust, gratitude and positivity within a company. Foley graduated from the U.S. Naval Academy with a degree in mechanical engineering. He also played football for the Navy Midshipmen during his time at the academy. As a pilot, he was a "Top Ten Carrier Pilot" six times before becoming a Marine instructor pilot and a Blue Angel.
In addition to Foley, Noël Perry, chief economist for Truckstop.com, will open the show on Monday, Nov. 12, with an economic outlook for the trucking industry.
As the event dives into other business-related topics on Tuesday, Nov. 13, Debbie Landry with Halvor Lines and Mark Murrell with CarriersEdge will speak during a session titled "Building a Winning Culture."
Later that afternoon, Federal Motor Carrier Safety Administration Administrator Ray Martinez will provide an "Update from Washington" for attendees before Phil Wilt with American Central Transport dives into a session titled "Driver Pay Trends."
On the final day of the two-and-a-half day event, Don Digby Jr., president of Navajo Express, will lead a session on "Scoring Shipper Performance." Foley will close out the event with his keynote speech.
More speakers will be announced in the coming weeks.
Registration for the event, available online here, is $295 through Oct. 12 for all sessions, all event-included meals and either the golf or horseback activity. The spa activity is a separate cost. Lodging is also available during the registration process at a discounted rate of $225 per night. A guest pass, which includes meals but no conference sessions can be added for $150, and a colleague pass with full conference registration can be added for $195.
CCJ Solutions Summit is open only to fleet management.