Monterrey, Mexico-based Olympic Transport is no stranger to U.S. interstates and highways. In 2007, The 140-truck flatbed fleet became the first Mexican carrier to earn conditional operating authority to haul freight to the United States and Canada.
Fernando Paez, owner and chief executive officer, started the company 29 years ago when he traveled to the United States to purchase his first truck at a Freightliner dealership in San Antonio, Texas.
Today, roughly 95 percent of Olympic Transport's revenues come from its cross-border trucking operation. Eliminating the chain of custody and providing a one-source transportation solution for freight originating from or going into Mexico has provided the company a competitive advantage, but participating in the cross-border program isn't without challenges.
Like other Mexican fleets in the cross-border program, Olympic Transport faces the stigma that their equipment and drivers are less safe than those at U.S. and Canadian operations.
"We heard that Mexican transportation wasn't safe and wasn't up to U.S. standards and that the trucks were in bad state," said Paez about the beginning of the cross-border program." We were asked to take one of our trucks to Washington D.C. and they put it right in front the [U.S. Department of Transportation] building next to an American truck. They asked the department to find out which was a Mexican truck and which was American, and they couldn't tell the difference."
Paez says participation in the cross-border program requires a higher level of order, discipline and driver training but said his company and its drivers operate on a level playing field north of the border.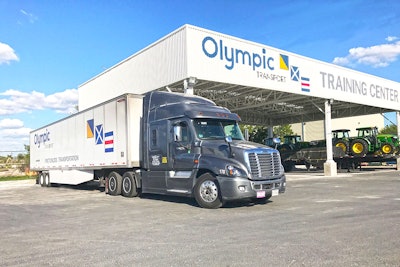 "The requirements are there to be met," said Paez of the cross-border program requisites. "What we are asked to do as Mexican companies to get into the United States is not different than those asked of American companies."
Olympic Transport's drivers are required to meet English language proficiency requirements for commercial driver's license holders. The company goes to great lengths to ensure its Hispanic drivers are comfortable communicating with U.S. and Canadian law enforcement at border crossings and roadside inspections.
"We have a very comprehensive program that starts with an assessment to see the amount of English the drivers know," said Paez. Depending on the level of English language proficiency, the driver is placed into programs to learn North American street signs and signals as well as load planning and other daily tasks that require the English language.
Olympic Transport also coaches its drivers on the roadside inspection process. "You have to look at it in context," explained Paez. "When we have a Mexican driver going into the border or into an inspection in the United States, sometimes the law enforcement officer can be intimidating. Usually they are taller, well-groomed and dressed in uniforms and they might seem very strict. The operator likely will feel intimidated if he is not well-prepared or if we haven't given them the right training."
Olympic Transport emphasizes the importance of eye contact and respect. "The way they introduce themselves to the police officer and the way they talk to them is important. We ask them to be kind and to inform the officer that they speak basic English."
The company also conducts random field tests of its drivers by simulating the roadside inspection process at terminal locations.
"We simulate we are a law enforcement officer (state trooper) and we start asking questions and putting them under pressure," said Paez. "We will ask him questions about his load and where he is going. With these random field tests, we are teaching them and making them practice, but what we are really doing is training them to feel the pressure of being inspected so that when they get a real-time inspection they are better-prepared to handle it by being trained under similar circumstances."
Like the North American fleets with which it shares the roads, Olympic Transport is also faced with a severe driver shortage. The company has increased driver pay to remain competitive, but Paez says treating drivers with respect has become more critical.
"We are trying to be competitive with salaries, but it's not always about money but how you treat the driver and the value you give them," said Paez.
The company presently operates on a four-year equipment trade cycle and is ahead of the curve for new emissions regulations that take effect in Mexico beginning next year.
"It is important for us to give drivers a good truck," said Paez. "If they can work comfortably and be more efficient, they can [be more productive]."