When Jeff St. Pierre's search for a national provider for towing services turned up empty, he decided to start his own company, The Towing Network (TTN), in 2009.
The business was launched from a meeting in Orlando where St. Pierre presented a plan to the owners of the nation's 10 largest tow truck and recovery service companies. He proposed creating a network that would offer fleets the lowest prices and best quality of service.
The towing companies initially rejected the idea, he says. They wanted to be the ones to decide where to broker jobs outside their own territories.
"I know a guy," was their preferred business model for a towing network. "I'm the best there is," the owners told St. Pierre. "You should just trust me."
He'd already been down that road in his previous career as a fleet safety executive. After further discussions, St. Pierre reached an agreement with the tow truck operators to establish a process for identifying the best providers and the right prices in each market and to hold each vendor accountable for execution.
Expanding service options
As TTN expanded its network of service providers, its fleet customers began asking the company to provide more than towing services to include emergency mobile repairs and scheduled maintenance.
TTN Fleet Solutions emerged as a full-service maintenance management company and currently has 65,000 mobile service providers in its network. About 3,200 of these providers do 90 percent of the work, St. Pierre says.
One of many unique services TTN offers to fleets is the recovery of trucks abandoned by drivers. TTN Fleet Solutions can arrange for abandoned trucks to be moved to a secure location, cleaned and prepped for the next driver to save fleets the cost of bringing trucks back to their own terminals.
Fleets have also engaged TTN to send a mobile service out to remove snow from the roofs of trailers, and to dispatch power-only trucks to deliver trailers and loads that otherwise would be sidelined during breakdowns.
"We excel at the weird," St. Pierre says.
'Right now' maintenance
In 2016, Jim Coffren was a customer of TTN Fleet Solutions. As vice president of maintenance at Kansas City, Kan.-based Riverside Transport and its sister company Transco Lines in Russellville, AR, Coffren was using TTN's call center service for emergency road calls.
That same year he joined TTN as vice president of operations and moved to Texas to work at the company's headquarters near Dallas.
"Fleet maintenance has to work around the schedules that the operations department is based on," he says. "Unless you are a regional carrier, you may never have the opportunity to touch some of your equipment. It's been a real challenge for many years."
TTN Fleet Solutions offers a "right now" solution for fleet maintenance, Coffren says, with a 911-like call center for emergency roadside events as well as integrated scheduled maintenance services.
The company has developed proprietary technology and processes to manage the 56 "touch points" it has identified in the lifecycle of roadside service events. The workflow for these touch points is customized to each customer based on how they operate and make decisions for authorizing service, St. Pierre says.
TTN is beta testing new software that will enable the company and its customers to better understand the fleet maintenance lifecycle, Coffren explains. The software, called Fleet-Assist, will help customers optimally design their own internal and outsourced maintenance network to achieve the best cost structure.
Presently, TTN's call center uses Fleet-Assist and can integrate certain features with fleets' existing call centers and repair networks. TTN's call center will dispatch trucks that need repairs to the fleet's internal shops or third-party locations based on service level agreements for the type of work and parts needed.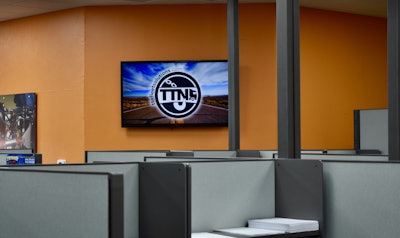 Fleets can "pick and choose what they want us to engage in," St. Pierre says. "It used to be all-or-nothing outsourcing."
When a fleet's maintenance department has an internal meeting, for instance, the fleet can "flip a switch" to have their breakdown calls routed to TTN. "Where it is important for you to take control, you can take control," Coffren adds.
All about the driver
During a breakdown event, a truck driver will typically call a fleet between three and five times. The driver will become increasingly agitated if they sense that nobody is listening or responding quickly, St. Pierre says.
"When a driver picks up the phone, somebody needs to say, 'I hear you,'" he says.
The average hold time at TTN's call center is 13 seconds.
"Everything is measured by the driver's experience," Coffren adds. "Ultimately that is what matters."
In 2018, TTN Fleet Solutions experienced 40 percent growth and hit $85 million in revenues. The company is planning to make some major announcements in early 2019, St. Pierre says, to further expand the types of services it offers to fleets.