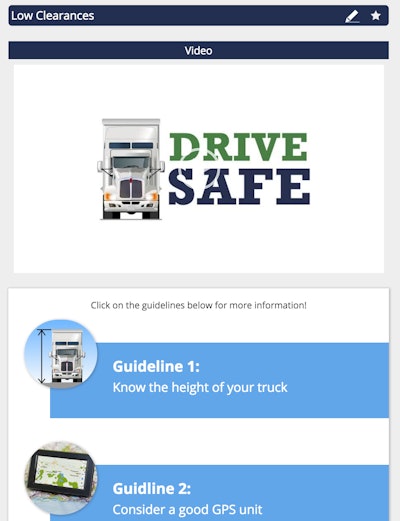 Stay Metrics shared the milestones reached by the Drive Safe and Drive Fit training courses since they became part of the privately branded Driver Rewards engagement and retention platform that Stay Metrics administers for carriers.
In September 2015, Stay Metrics added safety and health & wellness training to the Driver Rewards platform. The expanding library of training courses became one of many options for carriers to engage drivers and build loyalty with recognition and rewards.
The Driver Rewards platform gives carriers the option to utilize any or all modules in the Drive Safe and Drive Fit collections for ongoing training needs. Carriers can specify which module drivers take each month, and points are automatically awarded upon completion.
Drivers have been awarded more than 250 million points from their carriers for completing 170,000 lessons to date. Drivers can redeem their points on thousands of valuable, non-cash items through an online catalog.
"Driver training has traditionally been a passive experience that lacks meaningful incentives and recognition for drivers that take the time to increase their knowledge and skills," said Tim Hindes, co-founder and chief executive officer of Stay Metrics. "Drive Safe and Drive Fit break this mold by delivering a rewarding training experience that caters to the individual learning needs and preferences of drivers."
To develop these training collections, Stay Metrics partners with Luma, a research-based learning and instructional design company. The learning modules deliver short, interactive learning experiences that improve driver safety and wellness in meaningful ways.
On average, drivers have scored 86.6 percent on the lessons to date. The modules are continuously improved using real-time analytics and driver feedback. This ensures the content stays current and relevant to drivers, the company says.
Drivers continually give high ratings to the modules. From the beginning the average rating drivers give has remained high at 4.4 out of 5.
Stay Metrics has recently added an "Extreme Weather Conditions" module to Drive Safe. Recently added modules to Drive Fit include courses on "Dealing with Stress" and "Depression." Both of these courses were specifically requested by drivers.
Two more Drive Fit topics, also requested by drivers, will be coming soon: "Caring for Elderly Parents" and "Strategies for Being Comfortable in Your Cab."